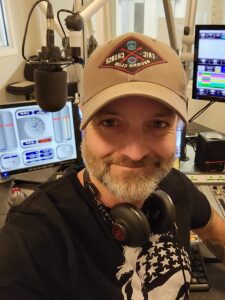 Kurt has been an announcer on Country 97 FM for 8 years, after being rescued from the heathen rock station by Carol Gass. Since arriving there he has been on Afternoons, Mornings, Mid-days and now back to Afternoons, but we're all hoping he'll make up his mind soon.
Over his time on-air he has received several awards including the 2016 Volunteer of the Year award from PGARA (for his ability to eat a peach straight off the track), BBQ Champion of 2019 at the BCNE (mostly because nobody wanted to tell him how bad his food was) and Loudest Voice in Prince George, (awarded by his co-workers almost daily).
You can find him hiding in the booth between 2pm – 6,pm demanding that everybody who enters answers random Star Wars trivia.
Tune-in weekdays with Kurt from 2pm-6pm