A celebration three years in the making is upon us in Prince George.
A National Indigenous Peoples Day event is being held at Lheidli T'enneh Memorial Park tomorrow (Tuesday).
It will feature drumming, elder stories, kids' activities, and food.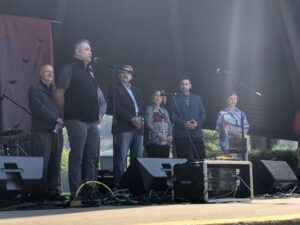 Chief Dolleen Logan said the anticipation is through the roof and that a fun and memorable experience for everyone is on tap.
"It's building, building and building. We've been waiting, waiting, and waiting for the go-ahead as COVID put a damper on everything and it would be good to see everyone out this year with no masks and having fun. I can't wait for it."
"We are trying not to make this political, we don't want to shove things down people's throats because it has been two years since we have been able to have fun. We want this to be a celebration."
Lead Organizer Jen Rubadeau stated an action-packed day is on the horizon for all age groups.
"And that will include singing, dancing, drumming and there will also be cultural activities for all ages, especially for the youth and the kids. The school district has agreed and will be busing in as many students as they can."
"There's going to be the aroma of all the yummy things you want to eat and then on the stage you are going to hear music. You are going to smell smudging ceremonies and you are going to hear the jingle of dancing and it's going to be throughout the entire park."
The celebration will run from 11 am to 7 pm and will feature performances including the Old Fort Traditional Dancers, UHNBC Drummers, and the Rick Stavely Band.