Former NHL player Jordin Tootoo gave an uplifting speech to cap off the three-day Northern Addictions Engagement and Knowledge Exchange Forum at the Prince George Conference and Civic Centre.
Tootoo, who is from the Rankin Inlet in Nunavut and the only player of Inuit descent to play in the NHL, stressed that it is time to end the cycle of suicide within northern and remote Indigenous communities.
Over the course of 13 NHL seasons, the 40-year-old suited up in 723 games for four different teams, the Nashville Predators, Detroit Red Wings, Chicago Blackhawks, and New Jersey Devils.
However, his story is a familiar one that is told within Indigenous communities often surrounded by triumph and tragedy.
Growing up in Canada's far north, Tootoo didn't look far for a role model – his idol growing up was his older brother Terence, who himself was a rising hockey star and the breadwinner of the household.
"Terence was the team captain, had to financially support our family and at the same time was working a part-time job. Every morning, my brother woke me up to take me to school, picked me up from school, took me to hockey practice and he had responsibilities of being a parent and he was only 16 years old."
Terence was a dominant Junior A player for four seasons with the OCN Blizzard of the Manitoba Junior Hockey League, located in the northern community of The Pas – a town with a population of just over 54 hundred people.
He and Jordin played on the Blizzard together during the 1998-99 MJHL season where both thrived on the ice playing a physical brand of hockey, each racking up 200 penalty minutes.
Fast forward three years later and Jordin's life would be changed forever. In late August of 2002, Terence was found dead in the bushes where he was staying with Jordin following a drunk driving arrest. The older Tootoo died from a self-inflicted gunshot wound.
Former NHL player @Jtootoo22 delivering the keynote speech on the final day of the three day addictions forum at PG Conference and Civic Centre #cityofpg #princegeorgebc #northernbc @fnha @Northern_Health @CityofPG pic.twitter.com/eudfDy88Fv

— My Prince George Now (@mypgnow) March 23, 2023
During his speech, Jordin outlined the pressures his brother faced, which led to that one tragic evening.
"Terrence's dream had been shattered and now uncertainty led to disaster. He was the first Inuk to play pro hockey and he was a role model to Indigenous people everywhere."
"He wanted it so bad but oftentimes he wondered how we would take care of the family. If he didn't make the AHL team, he would be back home working a regular job and wouldn't be able to support the family. In his last week, weighed heavy on him but remember, we didn't talk about these things – we kept it inside and buried it with booze."
Carrying the burden of his brothers death, Jordin still found a way to be an elite junior hockey player for the Brandon Wheat Kings – a place he called home for four seasons.
In 2001, he was drafted by the Nashville Predators in the 4th round, 98th overall – two years later he found himself under the bright lights of Music City.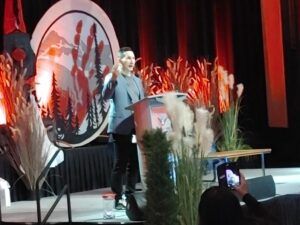 While everything looked fine on the outside for the first seven seasons of his pro career, Tootoo's life away from the rink was on a downward spiral.
"For seven years, I was caught in this anger and in this blame, and in my life had spiraled out of control. It is important for me to call this out – when I hit rock bottom I learned two things, I learned that I needed to change and to let go of the anger and blame."
Tootoo's moment of truth came in December of 2010 during a face-to-face meeting with Predators general manager David Poile about his off-ice antics, which centered around binge drinking.
"This was probably the 100th time I had been called to Mr. Poile's office. He basically gave me the ultimatum either accept the help we are offering you or your NHL career is done."
"In my heart, I knew it was time. There were no more lies to be made, no more games to be played – I needed help and the wheels were set in motion."
After a Boxing Day matchup in St. Louis against the Blues, Tootoo then went to rehab after briefly returning to Nashville with his teammates.
Tootoo reminded everyone in the Civic Centre audience that life isn't over the moment you get treatment – it is the exact opposite.
"I know many of you believe that you are done when it's time to get help. Let me tell you – you are not done – if you open yourself to confront to learn and to move on life will begin again."
"My career should have been over in 2010 but because I accepted who I was I believed in myself, I blocked out the negative and I showed up for every day staying in the NHL for eight more years."
"When I was sent to the minors, I said screw you I am not done, when I was a healthy scratch I said screw you I wasn't done yet. I learned to block out the negatives like he's a drunk, he's a loser, he's a cancer in the dressing room. All of these things and worse have been said about me," added Tootoo.
Tootoo's final message to the crowd was to become open and honest while showing no fear in talking about their feelings – something that is often all too bottled up in the Indigenous community.
"We all fight a fight no one knows about. Be open, be honest, and don't be afraid – the cycle can stop with you."
"A lot of people say just get over it, move on but it doesn't work like that. You have to move on and put in the time – it's going to get ugly sometimes but that's life facing the truth, we hate facing the truth as Indigenous people. We want to hide behind a screen and vent out but when its time to face reality we often want to pick up and forget and that is what I did from the age of 14 until I was 27 years old."
Tootoo is slated to return to PG next month as the First Nations Health Authority hosts a three-day Healing Through Connection workshop from April 18th to 20th from the Conference and Civic Centre.
The event will be geared toward youth and young adults.