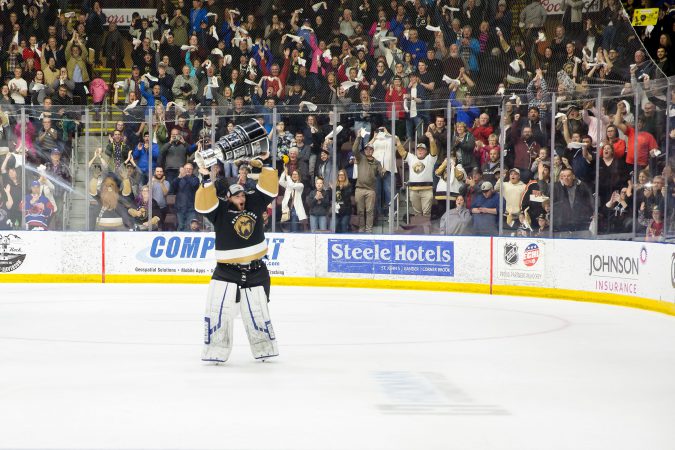 After being apart of a historic championship run with the Newfoundland Growlers of the ECHL, Prince George-born goaltender Michael Garteig is headed overseas.
The Kelly Cup winning netminder signed a one-year contract with Tappara of the Finish Elite League, in what can be considered as a memorable month of June.
Garteig told MYPGNOW.com it's a good opportunity for him to get out from under the log jam he's experienced with two NHL organizations.
"The league over in Finland is one of the more respectable leagues in Europe as there are lots of players that make the jump to the NHL from this league but there's also the Swedish Hockey League, Switzerland, and Russia that are probably very lucrative leagues in terms of money."
Tappara finished second in the overall standings this past season with a 32 wins, 16 losses, three overtime wins and six overtime defeats.
The 27-year-old admitted making the decision to head to Europe was kind of a no-brainer if he wanted to continue to trend upward in his pro hockey career.
"I figured for me, I kind of exhausted my options a little bit here in North America and I saw an opportunity where I could go and play for a top team in a really respectable league and make some money while doing it, it kind of seemed like a no-brainer at the time."
He also has the golden opportunity of stepping and making an instant on a team that is trying to replace a former NHL netminder.
"They had a goalie named Niklas Backstrom who played for the Minnesota Wild and he just retired so they needed a goalie and I was lucky enough that they did their research by scouting me, calling coaches and it's an honour that they feel confident in me."
Garteig singed a one-year, one-way AHL contract this past year with the Toronto Marlies but was sent down to the Growlers in order to get more playing time on a nightly basis.
He adds he could have stayed on our side of the continent but wouldn't have gotten that much further ahead.
"I had a couple of offers to sign similar contracts to what I had this year as I signed that one-way AHL deal. It's still respectable but you're probably the fifth or sixth goaltender in the organization and you have to climb your way up to the top and it seems like a small task."
Taking the ECHL assignment in stride, Garteig owned the net in Newfoundland where he went 23-14-3-1 with a 2.75 Goals Against Average in addition to a .909 Save Percentage and three shutouts
The Growlers finished with a record of 43-21-4-4 during the regular season, good enough for the top spot in the North Division en route to defeating the Toledo Walleye in six games during the Kelly Cup.
In 23 playoff games with the Growlers, Garteig posted a 2.19 Goals Against Average along with a .928 Save Percentage.
To put it mildly, it was a memorable year.
"To bring a pro championship to the province was something so cool because it wasn't just St. John's, it really was the whole province because people are so proud to be from there and to bring something like that to them is fantastic."
As for the parade, that was a whole another experience in and of itself.
"When we had the parade there were ugly sticks, flags everywhere and the traditions never die in Newfoundland. We got the Kelly Cup screeched in and little things like that make it such a unique place and everything we did there this year was so different and the people are so awesome."
Relive all the MOMENTS and speeches from the 2019 Kelly Cup Championship Parade and FAN RALLY!

Full Video –>https://t.co/drDYtPr4Bq#StandPROUD | #CHAMPS pic.twitter.com/kUAOP8umx5

— Newfoundland Growlers (@NLGrowlers) June 12, 2019
Garteig's hopeful journey to the NHL is not unlike another unheralded netminder named Jordan Binnington who caught lightning in a bottle and recently captured a Stanley Cup with the St. Louis Blues.
"I think a guy like him shows that it's all about the opportunity and not necessarily your skill level. I think every goalie in the AHL and even the ECHL can probably play at a higher level and it's just about opportunity, a lot of the times you get buried in these organizations because of top draft picks or guys they are paying more money to, there is a political aspect to it and I think Jordan Binnington is a prime of example of a guy who got caught in the rat race and should have been a couple of spots higher than he should have been."
We love thee, we love thee,
We love thee smiling land.#StandPROUD pic.twitter.com/TvlRFwxAPS

— Newfoundland Growlers (@NLGrowlers) June 7, 2019