The Nechako Watershed is one and a half times the size of Vancouver Island, home to 5 municipalities, 13 First Nation communities, and is the critical habitat to red-listed Nechako White Sturgeon.
Participants of the Nechako Watershed Roundtable came to speak with Prince George City Council this evening (Wednesday) about this "extraordinary system" and the work they are doing to create awareness of its importance and functions for the people who live around it.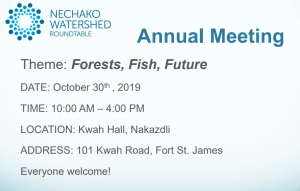 "I've done a lot of work of connecting and understanding why land and water is really important for health and well-being," said Co-Chair Margot Parkes. "I'm just one of our team of people on our core committee who are trying to make sure we team up to address issues that connect across the area, that have conversations and raise awareness of the importance of the Nechako, that connect schools, First Nations, local communities, and municipalities." 
Since its inception in 2015, the roundtable has highlighted a number of key areas of concern including water quantity and quality, fish and wildlife, ecosystems, resource development and use, and resource conservation and stewardship.
"We want people to be aware of the important work that we are doing and that it's a team effort and we wanted to call on the city of Prince George to be part of that team in their own way and also make sure that people understand the work we're trying to do together," said Parkes.  
Council allocated $3,400 to the roundtable for the next year.
They will be holding an annual meeting in Fort St. James on Oct 30 and are welcoming one and all to come out. For more information or to get involved in the roundtable, you can follow this link.