The Community Arts Council of Prince George & District and 6ix Sigma Productions have released a new documentary following multiple artists from in and around PG.
'Creative Paths: Artistic Journeys in a Northern Community', follows four local artists from different backgrounds and disciplines during their artistic journeys.
"It looks into what it is to be an artist in Prince George," explained Jason Hamborg, Creative Director and Co-founder of 6ix Sigma Productions, "as well as what the future looks for art in the community."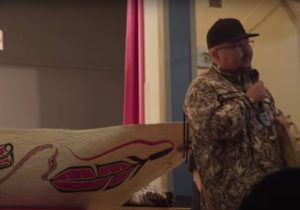 He explained that it explores the history of the PG art scene and dives into the more formal Community Arts Council.
"We wanted to take an open and honest approach, as well as a diverse approach in who we spoke with to get a bunch of viewpoints," explained Hamborg.
The documentary follows Noreen Rustad, who's actively involved in the Weavers and Spinners guild as well as Musician and Entrepreneur Danny Bell.
Live performance artist, Judy Russell is also highlighted in the documentary as well as Clayton Gauthier, a local art teacher specializing in multiple disciplines including illustrating and sculpting.
"We wanted to look at the community arts council in its 50th anniversary and have this legacy piece that acts a snapshot of where local art is right now, where it comes from and where it's going," added Hamborg.