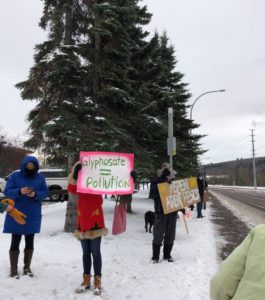 The ongoing battle against the use of Glyphosates in Northern BC forests has taken to the streets of Prince George, as around 50 people gathered today (Thursday) for a 'Stop the Spray' protest.
"There's going to be an authorization given to a major licensee in the area to basically do indiscriminate aerial spraying for the next five years," said Protest Organizer, James Stiddle, "there is very little accountability for this."
He explained that with this authorization, the licensee will be able to spray whichever cutblock they want and aren't required to leave anything for wildlife in the area.
"A lot of the time they're spraying places that don't even need to be sprayed by their own standard, they're often just being done as administrative work," Stiddle added.
Glyphosates are a broad-spectrum herbicide often used by farmers for weed control, but Mackenzie Kerr, Past Green Party Candidate and UNBC Forestry Student agrees that it doesn't belong in Prince George forests.
"We need to stop the spray in BC because we need to keep our Deciduous trees on the land as they work as fire brakes, Pine Beetle brakes and they keep the ecosystem healthy," explained Kerr.
Currently, the process only focuses on creating Pine Mono-crops, and has a serious impact on Deciduous plant species, according to Kerr.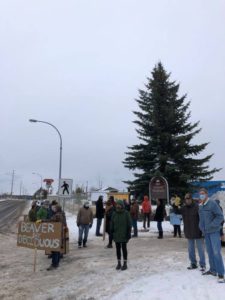 "This part of BC is sprayed the heaviest," she added, "so we can't just put a ban on it right away we have to change the stocking standards and planting standards so that's what we're advocating for."
In addition, the group was also protesting the financial burden spraying comes with.
"The spraying is paid for through deductions on stumpage, so over the next 5 years we're going to be giving chemical companies over $10-million to spray our forests and get rid of the beaver food, moose food and trees that have economic value," said Stiddle.
Holding a rally at Ministry of Forests Office in Prince George this coming Thursday. @bcndp said they would be phasing out #glyphosate spraying but a 5 Year Spray Plan is being approved. #forestproud #ittakesaforest #ittakesaforestnotatreefarm pic.twitter.com/qcwl15ujAf

— StopthesprayBC (@stopthespraybc) November 9, 2020