Construction for multi-family housing in Prince George continues to soar.
According to the city, the value of multi-family building permits reached an all-time high last year of 68-million dollars, a 30% increase over the previous record of 52-million set in 2019.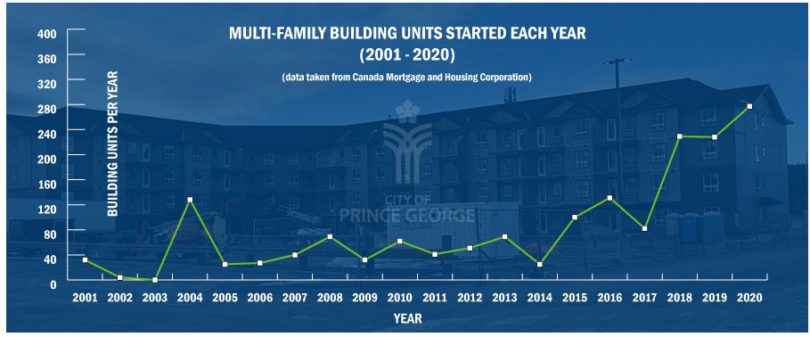 Manager of Economic Development, Melissa Barcellos spoke with MyPGNow.com.
"Since 2017, we have seen a steady incline year-over-year of multi-family building permit values as well as a number of projects that have been going ahead and that is a big change from the past."
According to the Canada Mortgage and Housing Corporation, the number of multi-family units under construction since 2018 is equal to the total number of units the northern capital had constructed in the previous 12 years.
Barcellos stated the shift in housing is due to the city's changing demographics.
"Most people in Prince George wanted single-family detached homes and that was the standard and now as we have an aging population as people are looking to downsize as we if increasing numbers of students coming into the city to go to university or the college, they are looking for student-type accommodations like smaller apartments that they can live in – we never had that stock to deliver these people and now we do."
According to the city, building permit values for 2020 reached a total value of 219-million, just shy of the record high of 223 million set in 2019.
She added the city was lucky to see construction on multi-family projects continue during the pandemic.
"We were fortunate that construction was allowed to continue during COVID and those projects were able to be built or started – a lot of that is still in the works."
"A lot of the permits and the projects were planned pre-COVID so there was a lot of momentum that was taking place in getting us to the point where they were ready for us to put shovels in the ground so that was a benefit."