A trio of rental apartment buildings in the Hart is being proposed by a developer in Prince George.
The Sparwood Landing project would consist of three, 43-unit buildings featuring a variety of one, two, and three-bedroom suites.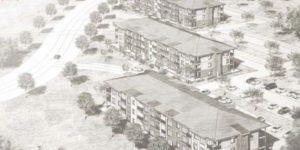 Bruce Kidd of Kidd Real Estate Holdings told MyPGNow.com this is badly needed for the area.
"This is positive for the Hart. We talk about a lot of times how it's negative and there are no sidewalks but I think sometimes there needs to be developed in order to advance some of those items. We are a big believer in the Hart and it should have the same amenities as a lot of other areas of Prince George like College Heights."
"Anybody that has looked for an apartment or has had staff look for an apartment in the Hart would say the same thing. We just finished some houses just down the street over on Sabyam and Chief Lake Road – we sold one of them to a guy, which has a legal (suite). Within an hour of putting it on Kijiji, he had over 50 calls in one hour."
According to Kidd, the city wasn't a big fan of the project initially, stating their support for a townhouse development.
However, the proposed rental apartments would have the exact same number of units, with a little bit of green space left over.
"We would have 123 apartments over the three buildings, except you are going to have a lot more green space, which allows for more amenities."
"Typically, when you develop apartments the city wants transit in that area and the problem with the Hart is that there is not a lot of transit areas. Anyone that lives in the Hart would tell you they don't use transit as most of the developments are car-driven," added Kidd.
Those additional amenities outlined in their proposal include trails, a public skating rink, a four-hole disc golf course, an off-leash dog park, and a community garden among other things.
"With the ice rink, we would build it, have the infrastructure in place and have a volunteer group to look after it. It would be the same for the community garden where we would build it and have volunteers manage it."
In short, Kidd noted this would be a privately funded venture.
The company will present to Mayor and Council to pursue a rezoning so the project can be built on a 16-acre parcel of land, adjacent to Chief Lake and Sparwood Road.
If approved, construction is slated to begin in the next couple of years.
In January, the City of Prince George noted that multi-family building permits reached an all-time high in 2020.
The value of multi-family building permits reached an all-time high last year of 68-million dollars, a 30% increase over the previous record of 52-million set in 2019.
"Since 2017, we have seen a steady incline year-over-year of multi-family building permit values, as well as a number of projects that have been going ahead and that, is a big change from the past," said Manager of Economic Development, Melissa Barcellos.
Barcellos then stated the shift in housing is due to the city's changing demographics.
"Most people in Prince George wanted single-family detached homes and that was the standard and now as we have an aging population as people are looking to downsize as we if increasing numbers of students coming into the city to go to university or the college, they are looking for student-type accommodations like smaller apartments that they can live in – we never had that stock to deliver these people and now we do."