Updated Story 10:00 AM
Prince George fire crews are investigating a suspicious blaze at Handsome Cabin Boy Tattoo.
Local firefighters arrived at the 1600 block of 20th Avenue just after 6:30 this morning (Tuesday).
Crews found heavy smoke and flames coming from the middle unit of a strip mall as well as the eaves of adjacent units.
Damage to the strip mall is about $200,000.
No firefighters or residents sustained injuries.
The Prince George RCMP is looking for dashcam footage or anyone who may have witnessed suspicious activity in the area between 6:00 and 6:35 this morning.
A Gofundme page has now been created with the hopes of raising $20,000.
=======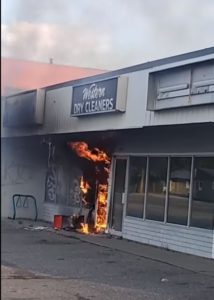 Original Story 8:10 AM
It was an early start to the morning for local firefighters and the RCMP.
Both are at the scene of a fire at the Handsome Cabin Boy Tattoo on 20th Avenue.
Details of the fire are unknown at this time.