The new 6-storey student housing development located at 1404 Patricia Boulevard beside the Public Library is nearing completion.
Veda Student Living is preparing for UNBC and CNC students to move in on September 1st, according to Norman Russell, Resident Community Administrator.
"I think this is going to be very good for Prince George, having a building where students can have all the amenities in the same place and especially having a lot of accessible places to go nearby like restaurants or the library beside the building which is perfect for studying," explained Russell.
The building will consist of 205 single units, which will each cost $995 per month including utilities, internet, and furniture.
46 indoor and outdoor parking will be available at the site, which is about a 10-minute drive to both CNC and UNBC campuses.
Ground broke on the project a year and a half ago, and according to Russell, it has been well received by the community.
"In terms of response, we've had a very good response from different businesses here in Prince George, students have been showing up to take a look at the building. In general, I would say we've had a good response and it is expected that we'll have more and more as we approach the opening date."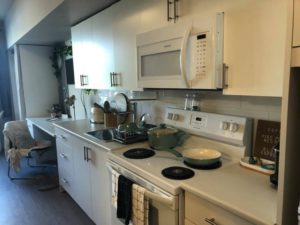 When it comes to security, the building and parkade are only accessible by FOB, and there will be a security company hired to monitor the building 24/7.
"There are security features all across the building such as proper camera surveillance and also working with security companies in Prince George to monitor the area," Russell added.
According to Russell, there has already been plenty of interest, but they're still working to fill all units prior to September.
Housing applications for the building are available on the Veda Student Living website.