The Exploration Place in Prince George started undergoing a significant overhaul at the beginning of the pandemic, and while it's still closed, the CEO wanted to give an idea of the new exhibits and upgrades you should expect when the doors finally open.
"Further applying the lens of Reconciliation to our planning and decision making, broadening our storytelling to better include the role of underrepresented ethnicities in the post-contact development of the area, tackling climate change in our work, and our program and ensuring that we are able to continue to supplement the core funding we receive from the Regional District, and the Province of British Columbia, with earned revenues has resulted in an ambitious renovation project we are calling the Living Evolution," said CEO Tracy Calogheros in a news release.
Calogheros said there will be work done to highlight repatriation and showcase some neighbouring First Nations.
She also mentioned that they are making more space for traveling and temporary exhibits, as well as more local content.
A geology exhibit is being carved in the lower gallery that will touch on the surrounding region as well as have exhibits on mining.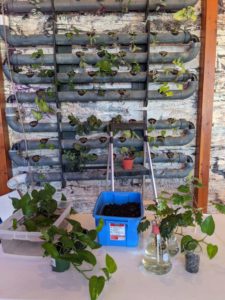 The new Paleo-Botany Hall is being transformed into a large indoor green space, featuring a 90-foot aquaponics wall, live exhibits, and family seating.
"We are expanding our Biome Gallery to encompass part of the second storey above it, and will feature new Animal Ambassadors (like a three-banded armadillo, a porcupine and flying squirrels to name a few).  We are also working through the process to become an accredited zoo and are presently designing the medical room, isolation space and new habitats," said Calogheros.
Origin's Kitchen will be operating at the museum, and will offer food services to both the museum, as well as directly into Lheidli T'enneh Memorial Park.
There's no definitive opening date for The Exploration Place, but Calogheros hopes to have a winter opening.