The Prince George RCMP are requesting the public's assistance in identifying the people responsible for a string of vandalism and arson activity against five different local churches.
According to Prince George RCMP, the crimes began on June 8th, when police received a report of two people tampering with video surveillance at Sacred Heart Catholic Church at 887 Patricia Boulevard.
We are asking for the public's assistance in keeping an eye out for any unusual activity around churches and other places of worship and to call 9-1-1 if they see anything suspicious, states Cpl. Jennifer Cooper of the Prince George RCMP.
On June 30th, police say the key fob scanner was broken, and then on July 3rd, officers received a report of mischief at about 10:30 pm that night and a witness reported a man was breaking plant pots outside the church.
Police were unable to identify the people involved on June 30th, but on July 5th officers recognized a suspect that was reportedly tampering with surveillance equipment, and recommended a charge of Theft under $5,000 against the suspect.
Investigators were called to yet another report of surveillance camera theft and identified three male suspects on July 22nd.
They're asking for the public's assistance in locating these men.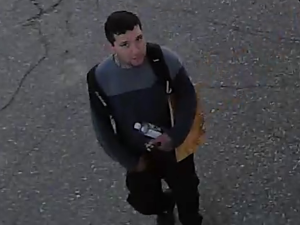 Police say the one man was wearing a ball cap, black pants, and a dark jacket, another was wearing a long-sleeved shirt, black pants, and carrying a backpack and the third was wearing a sleeveless red shirt, black pants and carried an Adidas bag with a sleeping mat tucked into it.
On July 4th, the Prince George Fire Services required assistance from the PG RCMP in dealing with a fire at St.Andrew's Church on 3555 5th Avenue, which they are now treating as arson and asking the public for any witnesses of the event.
Just a few days later on July 7th, police received a report that a suspect sprayed flammable liquid on the side of the church and spray-painted Every Child Matters in the alley behind the Knox United Church on 1448 5th avenue.
Prince George Fire Services attended the scene and sprayed down the liquid, which appeared to be motor oil, and police are now asking the public to identify the suspects caught on video surveillance that night.
Then sometime between 3:30 and 4:45 the next day, police say one or more people came and locked the doors of the church from the outside while people were inside attending a church meeting.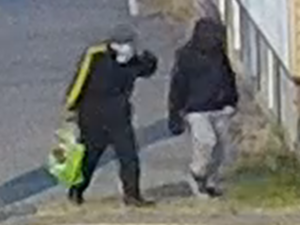 According to police, the suspect(s) then began shouting We know you are in there, we know what you did.
Police say on July 20th, they received a report of a man behind the St. Michael's Anglican Church on 1505 15th Avenue lighting some material on fire near the back doors.
Investigators are still looking for any witnesses.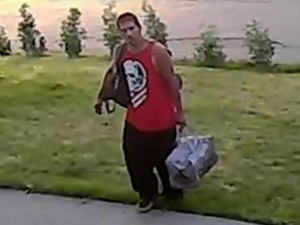 Finally, on July 26th, police say someone placed two containers filled with gasoline near a wall of the St.Mary's Parish on 1088 Gilbert Street and lit them on fire.
The Prince George RCMP also says someone lit a one-liter container on fire and threw it at the building, which caused the side of the church to catch on fire, but the evening rain quickly put the flames out and only a small amount of damage was left.
Police are also asking to speak to anyone that witnessed the events that night.
"We (waited to release this information) to see if these incidents would continue if these behaviours towards churches would continue and if it was in line with other church vandalisms we were seeing across the province," explained Cooper.
She adds while it is unknown if the events are related, she does believe they are similar to the church vandalisms occurring across BC.
Cooper adds this string of events isn't like other vandalisms the Prince George RCMP typically deals with.