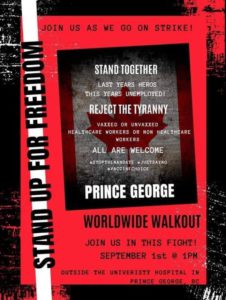 Around 300 residents gathered in front of the University Hospital of Northern BC today (Wednesday) to participate in the province-wide "Stand up for Freedom" walk-out happening at hospitals across BC.
Attendees held signs that read a range of statements including "Honor those who died for your freedom" and "What's Next Genocide?"
One protestor said they were advocating against vaccine passports, and he felt like they were being forced to get vaccinated by the government.
The virtual signage on the protest that has been circulating social media for the past week indicates the protest was advocating against the BC vaccine card policy, which will come into effect on September 13th and require BC residents to show proof of vaccination to enter certain businesses and events.
Residents from all walks of life joined in on the protest, some families brought their young children and one person reported a group of UHNBC nurses in scrubs walked out to join in.
One elderly woman held a sign that read: "Anti Big Pharma, Fascist Control, Lies & Forces Vax, Masks Face Covers Lockdown Tyranny, Physical Distancing, Business Closures, Techtonocratic Surveillance, and Fear"
Even a group of nurses from Kitimat joined in on the protest.
Similar protests were also held at hospitals across the province, with hundreds of people protesting in front of the Vancouver General Hospital and the Kelowna General Hospital.
Another attendee said a similar protest was held at UHNBC over the weekend, with hundreds of people in attendance.
That number grew pretty rapidly to about 300 people and it continues to grow. One attendee told me another protest was held in the same spot just this past weekend. No police are on scene at the moment but hospital security staff are present. https://t.co/lWbyW90f9m

— Francoise Dione (@dione_wearmouth) September 1, 2021