Around 50 local nurses gathered in front of Prince George Valemount MLA Shirley Bond's downtown office to advocate for safer working environments by addressing the severe shortage of nurses across BC.
The protest was organized on a national scale by the Canadian Federation of Nurses Unions (CFNU), a group that claims Canadian nurses' average weekly overtime hours have increased by 78% during the pandemic, from 5.8 hours in May 2019 to 10.3 hours in May 2020.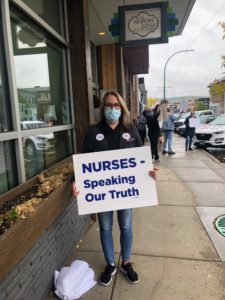 Local rally Organizer Tracey Jonker is a Licensed Practical Nurse (LPN), she says working conditions have never been this bad in her 15-year-long career.
"We need help, in Northern Health there are approximately 400 vacant lines and that speaks volumes. Chetwynd Hospital has gone on diversion, Fort St.John hasn't had an ICU since June of 2020, it's shameful. Our community deserves better, nurses deserve better. Our mental health is suffering, we're overworked, we're overwhelmed," she said.
According to the CFNU, the shortage is hurting nurses and patients because it has had far-reaching and damaging effects on workers' mental health and well-being.
Because of this shortage, Jonker says a lot of the times when intubated patients require one-on-one care, they often receive three-on-one or four-on-one care meaning there is one nurse working to take care of multiple patients in critical care at once.
Certain medications also require two signatures before it is given to a patient, and Jonker says a lot of the time nurses are unable to give the medication in a timely manner because they're unable to find another nurse to sign.
"We are so morally distressed knowing that we can't take care of our patients and that's why we became nurses was to take care of the vulnerable and the sick people," Jonker stated. "When you know that you need to be doing something to help that patient and you can't get to them right away, it really takes a toll."
Jonker said most nurses rarely even get breaks other than quick bathroom breaks, which many nurses also use to cry because of the sheer amount of stress they face on a day-to-day basis.
"The last 18 months has been by far the worst it's ever been. My mental health has really suffered, I'm a senior nurse on the floor and I've come into this pandemic thinking that I need to be a cheerleader for all the young nurses coming in and I'm trying my best. But you go to work, and you see what you see every day and you're working with these amazing people who feel just as bad as you are and it's been brutal," she said.
Additionally, the CFNU says the shortage is costing the government billions of dollars in overtime pay for these nurses because many employers do not provide the necessary staffing to meet the population's health needs.
To address the shortage, the attendees are asking for more seats in nursing programs, more credits for LPN's to upgrade into the Registered Nurse (RN) program, and an easier transition for international nurses to work in Canada.
Jonker said Shirley Bond has been great at keeping in contact with the concerned nurses, and they just chose to protest in front of her office because she is the current MLA.
She adds nurses in BC have been fighting the short-staffing crisis for around 30 years now.
"We're done asking for the government to help us with the short-staffing crisis, we're demanding action now," she stated.
During the rally, a vehicle incident occurred on the corner of New Brunswick St and 5th ave, and around 10 attendees rushed to assist the drivers and direct traffic while emergency crews responded.