A controversial candidate expected to run in next month's School District 57 by-election is being asked to step aside by BC Education Minister Jennifer Whiteside following some harmful comments.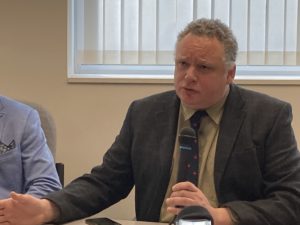 Stuart Parker and his campaign team held an event in downtown Prince George yesterday (Thursday) in an effort to "take back our schools".
However, a rally was created in opposition to Parker's candidacy, where he brought in guest speaker Chris Elston, who walked through the rally crowd with a sign that said: "Gender Ideology does not belong in schools".
Whiteside issued the following statement to MyPGNow.com:
Schools must be a safe place for children, staff, and families, and everyone in our education system is expected to uphold that unequivocal standard.
The comments in this video are vile, deeply disturbing, and harmful to children. They have no place in our society, let alone our education system.
I further condemn the anti-2SLGBTQ+ comments made at Mr. Parker's campaign launch yesterday.
The people and families of Prince George deserve elected representatives who stand for safe, inclusive learning environments – not those who promote dangerous views that jeopardize the safety and wellbeing of children.
Mr. Parker must take responsibility for his harmful speech, apologize unequivocally and immediately withdraw from this byelection.
Background:
The School Act sets out school trustee candidate qualifications and reasons for disqualifications.
An individual board of education cannot make their own rules about trustee eligibility, nor deny someone from running for office as a school trustee.
The Prince George School District has confirmed Stuart Parker has not submitted paperwork to confirm his candidacy. However, the nomination period has not yet closed.