The Coven House is a new business that opened in downtown Prince George on December 17th, and Co-owner Emmajade Berry said the community has been very welcoming.
Berry is a practicing witch, and said that she hasn't really run into the any issues that the stigma of witchcraft can sometimes bring.
"We have had an overwhelming amount of welcoming from everyone. The smaller communities are really excited, as I've seen on Facebook, and we've just had such a big, warm hug coming into this, and it's been phenomenal."
She said that she hopes her business can be a way to introduce people to witchcraft to help normalize it.
"The big thing for me is getting people in the door. There's a huge stigma around witchcraft, and if I have some lovely lady who has not even been thinking about witchcraft, but comes in for a hair appointment, and then she sees a book that calls to her, or she sees the hustle and bustle of witchcraft in the store, it will help break that stigma."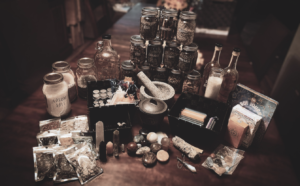 The store at 193 Quebec Street sells goods like candles, crystals, witch balls and what Berry calls witch kits.
She added that many of her products are made locally, and that she wants to provide goods that usually is only available online.
The Coven House also offers multiple services as well.
"We have a lash technician, a tattoo artist, a piercer, a hairstylist, and then a massage/tarot reader, which is myself."
"Different groups of people have safe spaces, and we want to be that. For people who are maybe like myself, avid practicing witches, or for people who are in the broom closet and a little bit too scared. We are safe place to come and ask questions, and learn," added Berry.
"Even if you just think crystals are pretty, you can come into the store and buy a pretty crystal, regardless of whether or not you care what the magical properties of it are. If you just think it looks nice and will look good on your table, come and get it."