85 more childcare spaces will be available in Downtown Prince George when the YMCA Park House Care and Early Learning Centre Opens in March.
The Centre will have 25 group childcare spaces for ages 30 months to school age, 48 school-age spaces, and 12 infant/toddler spaces.
Data collected by City Staff in recent years revealed a high-degree of need among residents for increased childcare spaces for all age groups, particularly in infant toddler care.
Director of Childcare Services Lynette Mikalishen says the spaces are going to be filled by kids on the waitlist, which is already quite long.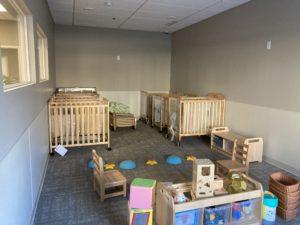 "The largest waitlist that we have would be for infant and toddler," Mikalishen explained.
"We tell people the moment you know you're expecting, or think you're going to be expecting, the family should go onto the waitlist. I know of families on our waitlist who've been on there and their children are now two."
The on-schedule and on-budget project was funded by the City's successful $3 million grant application to the Province's Childcare BC New Spaces fund, as well as $1 million from the Union of BC  Municipalities Community Child Care Space Creation Program.
In addition, construction is starting on another new childcare facility at 6776 Dagg Road in the Hear that will feature 60 spaces. That facility will be operated by the Prince George Native Friendship Centre, and is expected to open this summer.
The City says they're also investigating the possibility of another childcare facility at 8008 Malaspina Avenue in College Heights, which, if approved, would open in 2023.