Members of the Prince George community gathered on this wet and somber Tuesday morning to see the Ukrainian flag get raised at City Hall.
The Ukrainian flag being raised at #princegeorge City Hall. Drumming and the Ukrainian national anthem being sung at the same time. @mypgnow pic.twitter.com/Mej6cheEy9

— Brody Langager (@brodylangager) March 1, 2022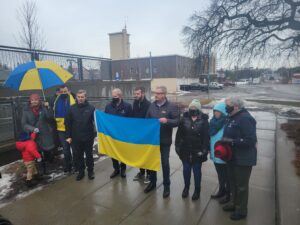 Drumming occurred, and the Ukrainian national anthem was sung, as Father Andrii Chornenkyii of the Ukrainian St. George's Catholic Church raised the flag.
"I'm supposed to start my day with prayer, but now it's turned opposite, and my day starts with scrolling through Facebook and other media, checking is my city bombed or not, are my parents safe, or not?"
Chornenkyii added that he wished he could do more.
"Small kids being born in bomb shelters, kids are raised without fathers, school is happening in underground shelters. So this is our reality and it makes me really hopeless."