The Prince George RCMP and ICBC are reminding drivers to watch their speeds.
May is High Risk Driving Month in BC and police were out at several locations including the intersection of Dufferin and Ospika this morning (Monday).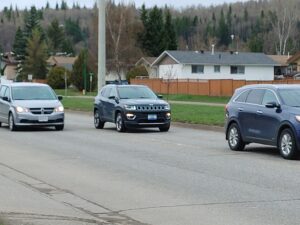 Cpl. Jennifer Cooper told MyPGNow.com that speeding can be costly even after getting a ticket.
"For any speeds, if you are going over 40 kilometres an hour or more over the posted speed limit you will also risk getting your vehicle towed. You'll have to pay the tow and storage fees so that can get really pricey for a week-long impound."
"It just takes so much longer for your vehicle to stop when you are travelling at higher speeds. If you have to make an emergency maneuver your distance is going to increase and that may not be successful."
Speeding fines range from $138 to $483.
ICBC Road Safety Manager Doug MacDonald stated even with the longer days, drivers need to slow down when pedestrians are trying to cross the street.
"Here, we have a set of pedestrian-controlled lights where we have people sometimes running the red light and there are people trying to cross the road. We are trying to remind drivers to slow down and give themselves enough time to get to where there going, it's just not worth becoming a statistic."
"It really doesn't matter what kind of vehicle someone is driving. It could be a pickup truck, a car, or an SUV – whether it's an older or newer driver, speed is an issue so what we need to think about as a driver is that we can do something about that by reducing our speed."
According to police, an average of 13 high-speed-related crashes occur in the north per month between now and the end of summer.