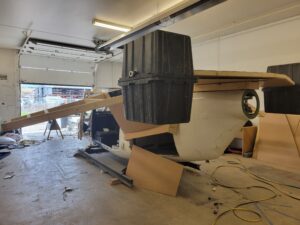 Skilled trades workers in Prince George can get the opportunity to help build a spaceship.
The project is being put together to be auctioned off during Northern Fancon to support actor Michael Hogan.
Prop builder and project lead Aaron Harrison said this is work going to a good cause.
"[Hogan] had an injury, I think it's a year and a half ago, and they need help with the recovery, because it's a long and costly process."
That being said Harrison noted they've run into a couple hurdles, saying that scavenging for parts, stripping parts from helicopters, and finding materials like plexiglass has taken up some time.
Harrison said he's been working long hours to put this gunship together, and he's appreciated the volunteer workers they've had helping out.
He noted that he could still use some help though.
"If somebody knows how to use a saw and a drill, and can help us out, that'd be great. Because the faster I can get this done, the better."
Harrison said if anyone is interested in to contact Norm Coyne at normcoyne@unltd.me
Northern Fancon kicks off tomorrow (Friday), and runs until Sunday.