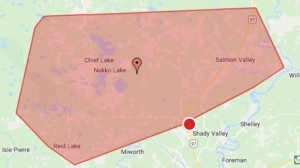 BC Hydro reports that two power outages are affecting over 4,000 people in Prince George and north of the community.
The expected time for the power to come back on is at noon today (Sunday), and both outages were caused by a motor vehicle accident.
Areas affected include east of Foothills Boulevard, south of Fisher Road, north of Wildwood Crescent, and areas outside of the city that reach from Reid Lake, to Chief Lake, out to Salmon Valley.
The power has been off since 3:49 AM, and crews are on the scene.