You may see some colourful dinosaurs wandering around Prince George.
Tracy Calogheros with the Exploration Place said they're out there building up some excitement.
"Well you really can't go wrong with a bunch of inflatable T-rexes running around town. Those guys are out there having a whole lot of fun, and we're trying to drive a little bit of awareness and excitement for the brand new opening at Exploration Place of our Gaia Gallery."
She noted that they had a dinosaur mascot, but having people put on the same costume just wasn't safe with the pandemic.
"So we got thinking about how we were going to be able to generate that same excitement, and find a connection to people that would be safe, both for them and our staff."
"You've got to have fun ways to get people into things these days. And our Gaia gallery is going to be looking at climate science through the lens of deep time," added Calogheros.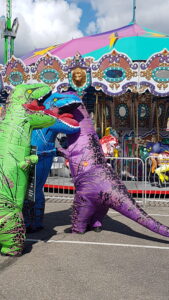 The Exploration Place is slated to have it's big reopening on June 18th, but Calogheros said there are still questions about whether they'll be able to get occupancy by then.
"I'm still holding my breath, because the supply chain is still getting us."
"We've got a major exhibit arriving for the 18th called the Witness Blanket, and we intend to open that. Our George Phillips Exhibit Gallery is accessible from the outside, so even if we have some problems with some of the major HVAC systems that are on hold at the moment, we'll still be able to get into that one gallery, as long as we can get occupancy of the building, or at least partial occupancy," added Calogheros.
She said people should expect a staged reopening, but they're still trying to get a full reopening in the meantime.