Prince George golfers came together today (Saturday) to celebrate Dillon Adey and raise money for people to go to school.
The College of New Caledonia and Dillon's family hosted the 13th annual Dillon Adey Memorial Cup Golf Tournament.
"13 years ago, we lost our son in a motorcycle accident," said Perry Adey, Dillon's Father.
"At his celebration of life, his friends came out with a three-foot trophy and said 'hey, we're going to have a tournament in his name and we're going to raise some money to help kids going to school'."
After that, they contacted the college and the tournament took place for the first time.
"It's unbelievable, we've got 144 golfers today, there will be about 180 at the dinner and dance," Perry added.
Dillon was a business student at the College of the New Caledonia at the time of his passing.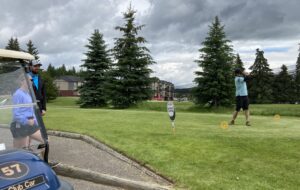 "He wanted to open up his own business to help guys in trouble clean up their life, but he never had a chance," Perry said.
"He was a member here at the golf and curling club, he played his junior golf and worked here, and he really enjoyed the game, until about age 16 when he discovered girls."
College of New Caledonia Spokesperson Mark Karjaluoto said the tournament means a lot for the college as well.
"It's meant financial aid for students, 78 students to date have benefited from the generosity of the Adey family and the many people who have donated," Karjaluoto said.
"We've also had equipment that had spanned a number of different programs around the college, and it's an ongoing legacy that's made a big difference for students and will continue to do so for the years to come."
Perry said before a ball was hit in the tournament this afternoon, over $15,000 was raised during for tournament through cash donations, hole sponsors, and other donations, as well as $35,000 worth of products for silent auction.
Perry said over $260,000 has been raised in the 13 years of the tournament.