Prince George Airport Authority  President and CEO Gord Duke describes YXS as a "very bee-sy airport."
Last year, YXS type-trialed a single beehive in their airport in partnership with Mike McGuire.
"It went fairly well, so this year we've expanded to six hives out there," Duke said.
"To support that, we're also putting in a pollinator garden to help keep these bees and any other bees in the area healthy and hopefully producing lots of good honey."
Duke said he's not familiar with the specific pollinators that will be planted, but they are designed to help the bees, and have lots of blossoms.
He added it's something they've been interested in doing for quite some time, but it was a matter of finding the right partner.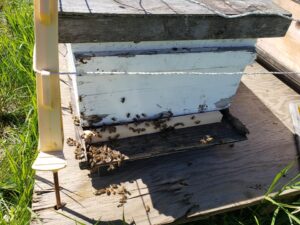 "We have lots of land, and bees are good for the environment, so we've been fortunate to have struck up a partnership with Mike and are looking forward to growing it even further if we can," Duke said.
"Ideally when you come out to YXS to get on your flight and you go to pick up some toast, you can have some YXS honey on that toast.
Duke said the current hives are visible from the Old Cariboo Highway Connector if you slow down.
He added they're open to putting hives in other spots of the airfield.