"I want you to pray that we get some sun, and let the rain go."
Those words came from Lheidli T'enneh Elder Darlene McIntosh during the opening remarks of today's (Tuesday) Indigenous Peoples Day Celebration in Lheidli T'enneh Memorial Park.
Unfortunately, the rain didn't go away, but that didn't stop the celebration.
"We haven't celebrated since COVID-19, so today is huge," said Lheidli T'enneh Chief Dolleen Logan
"The kids, this is the first time ever SD 57 has been involved, and you can hear the joy coming, they're just excited."
Following the opening prayer and grounding delivered by Elder McIntosh and opening remarks delivered by Chief Logan, other dignitaries from around the area were also given an opportunity to speak.

"It's not just today, it's understanding that the journey is tomorrow, the journey is on Friday, Saturday, Sunday, it continues," said Mayor Lyn Hall.
"That's why it's so important that we look at these partnerships as being the foundation of that journey, and the foundation of the work that we have to do."
Live entertainment was provided throughout the day by many Indigenous artists and groups, such as the Khast'an Drummers, the Nusdeh Yoh Drummers, and the UHNBC Drummers.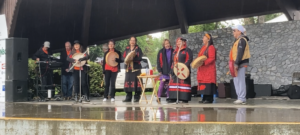 There was also a declaration made by the Lheidli T'enneh First Nation, affirming their Rights and Title to their territory.