"It's literally come out of the ashes, we have a brand new place for people to feel cared about, connected, to help make headway in the direction of their lives."
That's how Prince George-Valemount MLA Shirley Bond described the grand opening of the new Connections Wellness Centre in Prince George.
The original Connections Clubhouse stood for over 50 years before it burned down in 2018.
"We've rebuilt it, we've renamed it, we've repurposed it, and we're really excited to be reopening today," said Shirley Hogan, Manager of Education and Projects CMHA of Northern BC.
Hogan says they were still offering services, but there was a gap in the four years since the original clubhouse burned down.
"I moved back to Prince George in 2020, and I met with so many CMHA clients and one of the first questions they always asked me was 'when is the clubhouse opening up again'."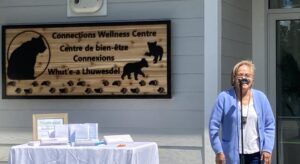 The new Clubhouse opened with an opening ceremony featuring drumming from the UHNBC Traditional Drummers, as well as a ribbon cutting ceremony.
"All of us need to feel connected, and I remember the day the clubhouse burned down," said Bond.
"The images were devastatingly painful, because the concern was 'what now?'."
"The building may have disappeared, but the vision didn't, and the desire care for people to connect with one-another."
Hogan added that much of the funding and infrastructure for the Clubhouse came from donations.
Wesley Mitchell and the UHNBC Traditional Drummers lead the Mens Healing Song during the grand opening of the Connections Wellness Centre pic.twitter.com/mj8UIUxSqJ

— Darin Bain (@darin_bain) June 24, 2022