A scout camp located, south of Prince George has been vandalized, leaving the non-profit youth group short several thousand dollars.
According to a news release, the damage at their Pitoney Lake facility was discovered when a group of members went to the site over the long weekend, expecting to use the property's main cabin and various other facilities.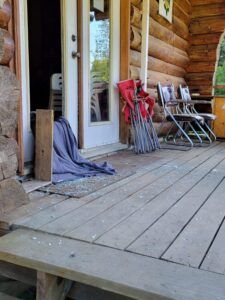 The damage included broken cabin doors and smashed windows, in addition to significant amounts of theft.
Scouts Leader, Laura Parent told MyPGNow.com, the the incident is already taking its toll on the kids.
"A lot of our kids have now said they don't feel safe at the camp and that is really frustrating. We put a lot of effort into the camp property and we want kids to feel safe and happy so that they can learn how to have fun and that is being taken away with this. I think that is the hardest part."
Some of the stolen items include lanterns, a cooler, first aid kits and miscellaneous first aid supplies, white gas, a camp stove, camp chairs, and more.
Parent mentioned the facility is well-used all year around.
"We probably have a dozen camps there throughout the year and a camp can have anywhere from five kids to 60 kids. So, overall, I would say about a hundred kids spend time at the camp throughout the year."
"We've had groups on just about everything from week-long survival camps to sleepovers for five-year-olds. It's just a place where kids can practice their survival skills and they can learn how to canoe or kayak and learn how to light fires and camp. All of those fun things kids like to do at camp."
The damage estimate is close to $3000 and an investigation has been launched by police.
Cameras on the property indicate that those responsible accessed the property by the lake.
In addition to fundraising efforts, the group has launched a Go Fund Me page to help recover some of the costs needed to repair the site.
"Every dollar that we have to spend towards rebuilding, fixing and replacing gear is a dollar that we can't spend on youth programming. That means less badges, less activities and less fun things that they want to do with the money that they fundraise," added Parent.