Welcome to Hartley's Cat Scan!
This is a weekly podcast featuring the 'who's who' of the Prince George Cougars.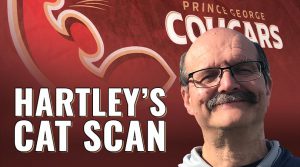 Hartley's guest this week is Cougars Director of Scouting Bob Simmonds.
During the episode, he discussed a number of topics including:
His relationship with Queen Elizabeth II; rules and protocols when dealing with the Royal Family
Training and planning involved when escorting high-profile dignitaries
Encounters with the Prime Ministers of Canada, Finland as well as US President Bill Clinton
Significant expectations for the Cougars
Development of captain Ethan Samson
You can also find this podcast on iTunes, Spotify, Google, Stitcher, and TuneIn.
LISTEN: