Horns and sirens echoed down 15th Avenue this afternoon to help put a smile on a young man's face.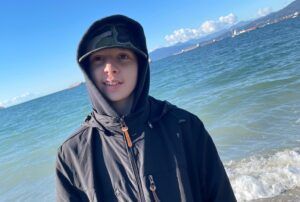 13-year-old James Torraville of Prince George is battling cancer for the fourth time, after being diagnosed in October.
A group of community members organized a convoy to drive by his home on Irwin Street to show their support this afternoon. (Saturday)
"It's meant a lot, we're super grateful, super thankful, just glad that our community's come together for us," said Stefanie Watson, James' mother.
"He's doing well, and he's keeping up, and he's happy to be home with his family and friends."
The convoy started gathering at the CN Centre at around noon, and drove by the family's home heading West on 15th Avenue at around 12:45.
James watched from inside as the vehicles drove by.
It was led by an RCMP Cruiser, and was joined by fire trucks, ambulances, semi-trucks, company vehicles, and many regular drivers in Prince George who just wanted to show support.
Many people have also been showing support for the family online.
As of Saturday afternoon, 124 donors have raised $17,245 for the family through a GoFundMe that was set up by Leigh Anne Gentry, a family friend.