Baby food, diapers, and canned items are some of the items highest in demand as the Community Christmas Fundraiser hosted by Vista Radio and the St. Vincent de Paul Society runs tomorrow (Wednesday) and Thursday.
It takes place from the Country 97 FM and 94.3 the Goat studios at 2977 Ferry Avenue.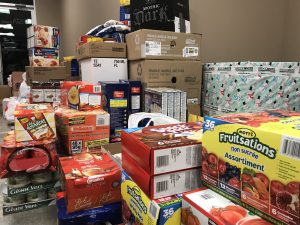 Last year's event saw PG residents raised over 40 thousand dollars to assist with the non-profit's holiday food hampers they hand out to families in need.
Bernie Goold with St. Vincent de Paul told MyPGNow.com times are tough for all corners of the population.
"Poverty just isn't a weekend or a week-long, it's now 365 days a year,"
"People on a fixed income now have to start dropping things from their lists because they can't afford them. And you know, for many of them, their money doesn't stretch until the end of the month."
She added they hand out roughly 50 food hampers a month to seniors – a 50% increase when compared to last year.
"We are privileged to do it. They built this community and they had very small homes when starting out."
Food prices to climb between dive and seven percent in 2023
As of October, food prices had risen by more than ten percent over the previous 12 months.
The Canada Food Prices report said vegetable prices are expected to see the highest increases, between six and eight percent.
However, it mentioned we should see a decline in food inflation by the end of next year.