A warning to readers, some images and details of this story may be disturbing.
"When you have a loved one with dementia, every moment of their time with you is precious."

– Jason Keller
A pair of siblings are speaking out against the Simon Fraser Lodge in Prince George, claiming negligence shown by the care home ended up contributing to the death of their mother, Kelly Ashton, after she suffered multiple falls in a day.
Since her death, Santaya Garnot and Jason Keller, Kelly's children, have gone through Northern Health to gain access to the Lodge's incident reports and internal investigation summary, and hospital records surrounding the falls.
They have shared that information with My PG Now.
Ashton was a 62-year-old dementia patient who had been living at the Simon Fraser Lodge from midway through 2020.
The Public Health Agency of Canada defines dementia as "an umbrella term that describes a set of symptoms affecting brain function. It's a chronic condition that gets more severe over time and is often characterized by: a decline in memory, planning, language, and judgement, physical changes, like: loss of coordination, loss of bladder control, weak and stiff muscles, trouble standing, sitting or walking, and changes in mood and behaviour"
"Mom was late-stage," Keller said. "She could still say words like I love you and communicate with the basics. She still ate, walked, talked, and enjoyed her time with us."
Simon Fraser Lodge records, acquired and provided by the family, say Ashton suffered two falls – a common symptom of dementia – within 24 hours in November and was only taken to the hospital when her family intervened.
The hospital records the family also obtained say she fractured her neck in multiple places as a result of these falls. She passed away under a month later.
On the morning of Wednesday, November 9th, 2022 Garnot and Keller say they received a phone call from the Simon Fraser Lodge saying that their mother Kelly had slipped and fallen early that morning, hitting her head.
The lodge's incident report book was filled out in real-time, their investigation summary was completed afterwards.
Garnot and Keller gained copies of both of these documents through Northern Health, which tell the same story of events – though there are minor inconsistencies.
Both documents state that around 12:30 pm, there was a report of flooding from a neighbouring bathroom that had come into Ashton's bedroom.
The investigation summary says "Night staff noted resident sitting on edge of bed. Resident became physically aggressive." Staff also noted she had soiled the clothes she was in and would need help changing.
The incident report states that at 2:36 a.m., the staff managed to get her changed and she was given medication for "severe agitation," because she "was very aggressive verbally and physically during the change."
The same entry says she refused to go back to bed and started wandering the halls of the home on her own.
Another report entry at 3:05 a.m. said she was still wandering and was given more medication.
A 4:00 a.m. entry said she was found on her knees in the lodge's living room with a bump and cut on her forehead and blood on the floor.
Still reportedly aggressive, the incident report says she was taken in a wheelchair back to her room where she was bandaged up, assessed, and put back to bed where she fell asleep.
The incident report and the investigation summary conflict at this point.
The investigation summary states that the flooded water was cleaned up between 12:50 a.m. and 3:05 a.m., but the incident report tells a different story.
Logged at 9:00 a.m., the incident report reads: "There was water leaking in the room, and care staff had to wake her up to clean the room at 4:00 a.m. Since then, the resident was agitated and drowsy, pacing throughout the hallway, and was a potential for another fall."
Later that day, the kids were told their mom fell and hit her head again.
"My sister was concerned," Keller told My PG Now. "She (Ashton) was doing ok, but she was highly medicated walking around and seemed to be bumping into walls."
"My sister raised concerns about that, saying if she was not watched carefully, she would fall again. They assured her she would be ok and they would be watching. Then they called [Garnot] again and said that [mom] had fallen again."
"I had gone and seen her that day," Garnot said. "I requested for a doctor to come see her, and addressed my concerns with her level of consciousness and confusion."
"They assured me that the doctor had been notified, that she was ok, and that we did not have to pursue further medically," she said. "About two hours after seeing her that same day, they called again and said she fell."
The second fall was recorded in the incident report logs at 6:20 p.m. on November 9th.
The investigation summary says "a dietary staff observed that Ms. Ashton tripped on a wet floor sign that had been propped up against a wall," in a hallway that Keller said was always cluttered with equipment.
"There is an extreme amount of chaos around the dementia ward," he said. "These are people that are highly medicated that have trouble walking… and then we are going to put out some obstacles for them. That just does not make any sense."
The incident report says Ashton was found "screaming" in the hallway of the Lodge, they checked her vitals again and gave her an ice pack for her head.
The 11:50 p.m. log in the incident report says that she had a "bump on [her] forehead, warm to the touch," but that she looked comfortable.
"I asked them again, 'should I take her to the hospital?' And they said 'no, she is fine… she has no new marks, we are going to monitor her.' They had notified the doctor and he was fine not seeing her," Garnot said.
According to hospital records, between one or both of these falls, she had fractured her Cervical 1 and Cervical 2 (C1 and C2) – the first two vertebrae of the spine from the skull.
"The next morning we requested a care meeting," Keller said.
Keller and Garnot discussed the falls with the General Manager and Head Care Nurse of the Lodge.
Keller said "I told them 'you are lucky nothing has happened, or we would be having a different conversation today.'"
Ashton was sleeping during the meeting, and the only check-in the family had with her was brief.
On the afternoon of November 11th, Keller and his son went to check in on his mom.
"She was very comatose. Having trouble sitting up. They were trying to feed her, and her head was down and sunken low."
It was then they found out the doctor would not be in to see her until Monday, November 14th, five days after the falls.
"Me and my sister talked about it, we decided she was going to go to the hospital. My sister went to the front counter and said 'we are going to take mom to the hospital.' Their response to that was 'why?'"
The family took Ashton to the hospital and informed the Lodge that if she was released, they would not be leaving her in their care again.
Upon arrival, the hospital confirmed she was not fine, and told the family about the fractured C1 and C2.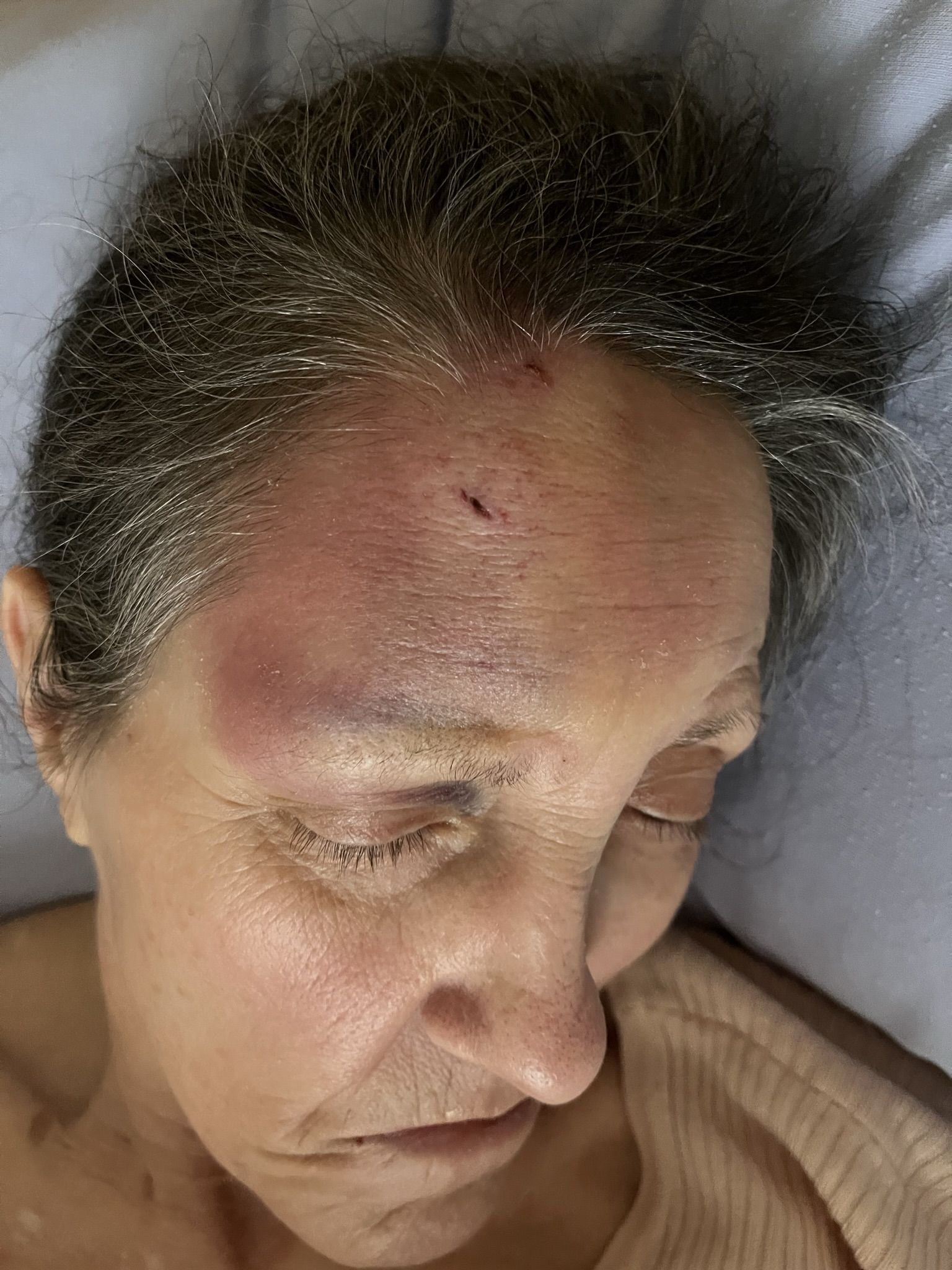 "She was clearly in pain that whole time," Keller said. "I have no clue… how you don't see someone like that and think they don't need to go to the hospital."
"From there, she just steadily declined. It was too much with the injuries and the pain and her being bedridden," Garnot said. "She just couldn't come back from it."
Kelly Ashton died in the UNHBC hospital in Prince George on December 1st, 2022 at 62 years old.
The family shared a death certificate with My PG Now, but no documentation they received gave an official cause of death.
The first words on Simon Fraser Lodge's Investigation Summary are:
"On November 13, 2022, GM received an email from Santaya (Garnot) requesting to stop all payments as resident will not be returning to care…
…Resident was transferred to hospital, unclear reason why."
While the most severe, this was not the family's first issue with care at the Simon Fraser Lodge.
Another issue was centered around dental care – she came back from two trips to the dentist on November 10th, 2021, and February 26, 2022, with letters to her family and the Lodge, saying her oral health had been severely neglected – causing gingivitis and inflammation.
A letter from Dr. von den Steinen addressed directly to the Simon Fraser Lodge, dated February 26, 2022, reads:
"We were disheartened and very disappointed to see, yet again, the severe dental neglect in Ms. Ashton's mouth. The amount of plaque, bacteria and food debris on Ms. Ashton's teeth and denture was disgusting and very neglectful. The bacteria and food that has accumulated on her teeth and denture is from days, if not weeks, of not brushing or doing the very basics of oral hygiene."

"This

kind

of

treatment

is

deplorable

and

shameful

."
"Kelly indicated that she was in pain and the tissues were inflamed, irritated, and showing signs of early infection… Ms. Ashton does not have the cognitive ability to brush her teeth, clean her denture or perform adequate oral care on her own… Ms. Ashton has always been a very cooperative patient and has never shown any signs of resistance to any treatment in our office. We don't anticipate any difficulties with having someone assist her with her oral hygiene."
After this letter was written, the family said oral care did not noticeably improve.
Garnot and Keller are currently exploring all legal avenues to see what can be done.
"We are going to speak out," Garnot said. "If they would have dealt with it a different way when this happened and said 'hey, this happened and we are sorry.' We could have gone a completely different path, but it seems like they haven't cared right from the beginning."
"When we went to pick up my mom's stuff from there, they did not say anything to us at all," Keller said.
"We told them a synopsis of what had happened, and their response to that was 'we are sorry that happened.' Not 'I am sorry that happened in my place, I'm sorry that happened to your mother, I am sorry for the trauma you have…' instead they said nothing."
Michele Thomson, the Vice President of Operations of Buron, Simon Fraser Lodge's parent company, also spoke with My PG Now.
Due to confidentiality laws, she said she could not say much about the specifics of what happened in the Simon Fraser Lodge and had to defer many questions to the health records and reports released to the family.
"We obviously are aware of the complaint, and we are corresponding with the family," she said.
"We take these complaints really seriously, we have reported it to all the appropriate regulatory bodies, authorities, licensing and the patient quality review office."
"It is unfortunate that the family feels we have been apathetic, or that we don't care. I can tell you that we do. This is not an outcome that we would have wanted or hoped for in any way, that the family does not feel that we have responded in a way that made them feel validated."
Travis White, the General Manager of Simon Fraser Lodge, responded to our interview request with the following email:
"Thank you for reaching out to me. It is my understanding that you have already spoke to my VP Operations Michele Thomson whom I have copied here. I do not have anything further to add to the statement that she has provided at this time."
"It was just one thing after another, and it got the point where I said 'I want to move her,'" Ganrot said.
"We discussed switching care homes and looking back, I wish we had," Keller added. They spoke with Ashton's physicians about the possibility.
"The process of switching care homes is not easy. Mom would have been at the bottom of the list of people waiting to be placed in a care home. It would have taken quite some time before the change happened. It was also communicated to us by her care team that at her stage of illness, moving her homes would not be beneficial to her health."
Keller also said he and his sister could not take care of their mother themselves.
"Moving care homes is next to impossible, and when complaining, the health authority asks you to work with the home. Essentially doing so caused our mother to pass early."
Garnot said six weeks after these discussions, Ashton suffered her falls.
"There has to be change," Keller said, in closing. "It is one of the hardest decisions you can make to put a loved one in care… there has to be a higher expectation. Sorry is not going to cut it."
"There are people in there that don't have families, that don't have people that will advocate for them, and we would hate for this to happen to another family," Garnot said.
According to Simon Fraser Lodge's website, they house up to 130 senior residents and specialize in dementia care.