If the UNBC Timberwolves want to become a playoff team in Canada West women's basketball they need to figure out how to close out games.
The T-Wolves blew a nine-point fourth quarter lead and committed 23 turnovers dropping a 72-65 decision to the fourth-ranked Winnipeg Wesmen at the Northern Sports Centre on Friday.
Third-year guard Anna Kernaghan hit a clutch three-pointer with 1:41 on the clock to break open a tie game to improve Winnipeg's record to 10-3 on the season while UNBC dips to 4-9.
Kyanna Giles proved why she is one of the leading scorers in the Canada West. The fifth-year player posted a game-high 26 points.
Kernaghan and Robyn Boulanger also picked up the slack with 16 points each.
UNBC started on a 7-0 run, but Winnipeg came storming back, generating steals to stymie the Timberwolves attack.
The Wesmen then used an 11-point run at the end of the first quarter to build a 22-14 advantage. Giles and Kernaghan combined for Winnipeg's first 25 points.
Sveta Boykova scored a team-high 18 points for the Timberwolves and pulled down a game-high 16 rebounds. Shakirova added 17 points and Laura Garmendia Garcia chipped in with 14.
However, Shakirova also committed seven turnovers.
"We need to say focused the whole game, we need to come out with a lot of energy," Shakirova said. "We're pretty close to where we want to be."
In men's action, Winnipeg jumped out to a 45-24 halftime lead and never looked back, cruising to a 78-68 victory over the Timberwolves in front of 1,500 screaming elementary school students from School District 57.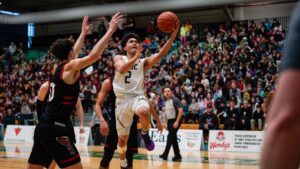 Shooting proved to be the difference in the game as UNBC struggled mightily from beyond-the-arc going 4-for-21. Overall, the Timberwolves were 25-for-70 on its field goals.
Conversely, the Wesmen were a little more efficient, converting 45% of its field goal attempts.
Second-year forward Mikhail Mikhailov had 18 points and 12 rebounds for the visitors while his teammate and fellow guard Shawn Maranen notched 16 points.
Winnipeg had 48 points in the paint compared to UNBC's 36.
Justin Sunga was the top performer for the 5-8 T-Wolves recording 20 points. Micha Jessie and Fareed Shittu both had double-doubles in a losing effort.
"We just lost the toughness battle today," Sunga said, "We struggled to get back on defence, and offensive rebounds have been killing us the last couple of games, so we need to take care of that."
Winnipeg improves to 10-3 on the season under former UNBC bench boss Mike Raimbault.
Both varsity teams are back in action this afternoon (Saturday) at 3 and 5pm from the Northern Sports Centre.