Youth was served for the UNBC Timberwolves women's basketball team as they picked up a huge victory on the road.
A 14-point effort from freshman Amrit Manak followed by a career-best 10-point game by Adaiah Tupas-Singh kick-started a dominant second half outsourcing the Mount Royal Cougars by a 44-24 margin, en route to a 72-56 victory on Saturday.
With the win, the Timberwolves improved to 6-10 on the season.
UNBC came out like gangbusters in the first quarter on the offensive end, starting the game on an 8-2 run on buckets from Alina Shakirova, Sveta Boykova, Olivia Wilson, and Rebecca Landry.
Mount Royal held a 32-28 lead at halftime.
Shakirova had 20 points to lead all scorers, adding three rebounds and three assists.
On Friday, UNBC's shooting woes proved costly in a 61-47 defeat against the Cougars.
The T-Wolves went 15-for-69 on field goals, including a 4-for-31 showing from beyond the arch.
Maddison Hooper notched 18 points for Mount Royal (9-6) who also scored 25 points off of UNBC turnovers.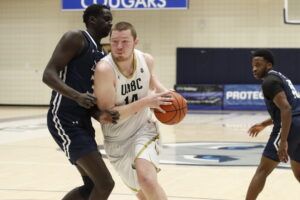 In men's action, UNBC snapped a lengthy losing streak on Saturday thanks to a massive effort from 4th-year big man Spencer Ledoux.
His 26-point effort lead the T-Wolves to a 96-85 victory over Mount Royal.
Evgeni Baukin also had a career-best game with 13 points off the bench.
Keivonte Watts had a team-high 22 points for the Cougars in a losing effort.
On Friday, the T-Wolves fell 83-71 to Mount Royal (8-8) thanks to a dominant 24-point effort by Holt Tomie.
His teammate Mawien Mawien also kicked in 18 points and 16 rebounds.
Darren Hunter led the way offensively in a losing cause for UNBC with 21 points including an 8-for-14 performance on field goals.
Both UNBC varsity teams are back in action Friday and Saturday against the Thompson Rivers Wolfpack from the Northern Sports Centre.