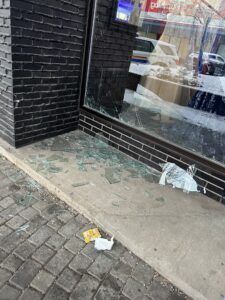 "Just when you don't think it can get any worse, it definitely does."
Those are the words of Mary Simoes, Owner of Storybook Wedding in Downtown Prince George on third avenue, who experienced her ninth break-in at her store.
"Usually they're small breaks through the window, a smash and grab where they're running though grabbing jewelry and just taking off," said Simoes.
"Last year we had a really big one, our first big one and it was where we have our garbage in the back area. We had gates put up because people kept coming in and starting fires back there. They broke through that, started a fire and there was quite a bit of smoke damage in my store."
Last week, police reported a young female suspect broke into a business on the 1300 block of Third Avenue and stole $10,000 worth of merchandise.
However, between the stolen items and damage to doors and windows, Simoes estimates the total damages to her store is closer to $30,000.
"I just talked to my bookkeeper and she's coming in and we're going to go through everything," Simoes explained.
"We're just trying to assess everything right now, so we're just guessing at a number."
Simoes said the suspect went through the store, leaving a huge mess.
"They broke through two entire big windows, they smashed out, broke a side door, and attempted another window. The worst was the inside job in here was pretty bad, she went through pretty much the entire store, left a trail, just a huge mess," she said.
"Just random stuff, jewelry, shoes, belts for dresses, gowns, my tablet, just a lot of random stuff, The worst thing for me is she went into my layaway room and took out dresses that we have actually sold for clients."
Simoes said that she now has to call those clients to tell them that she doesn't have their dress anymore.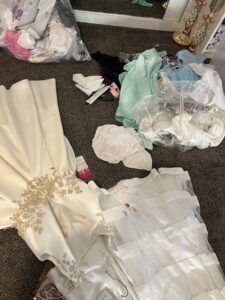 She added the suspect cut herself on one of the windows, and got blood on some of the dresses.
The day after, Simoes said there was another attempted break-in with different suspects.
"Where we have gates in the back, she was taking bins and taking it over the barbwire fencing, moving stuff out and through the window," she explained.
"On day two, they came back where my mannequins were damaged, so we had them out in the garbage area. Different people again came, they cut open the whole barbwire fence and left quite a big mess."
Simoes added someone had started a small fire on the sidewalk in front of the business next to hers.
"Last week I had a lady OD in front of my doors, they're blocking the area, they're having the police come, ambulances, and it seems to be the same over and over," she said.
"My clients are having trouble getting to my front door, they're blocking off the sidewalks and people are having to go around to get into my store. To say I'm angry is an understatement, I mean this is ridiculous, it's almost like somebody of importance, something has to happen to them before anything will happen here. It's shocking that nothing has happened. I would love to just pack up my s*** and get out of here."
She said she has been talking to a realtor, but it's been hard to find a new store with as many windows for display, which is something important to her business.
Simoes added she has been receiving incredible support from the community.
"I've had a lawyer call me and ask me about suing the city, I've had amazing support from so many people which has been fantastic," she said.
"I've got so many private messages, so many business people coming in my store in the last couple of days showing me their support, and they're shocked this is happening."