A criminal investigation remains open in relation to historical sexual abuse allegations against some members of the Prince George RCMP.
That's according to RCMP E-Division Staff Sergeant Kris Clark who submitted the following statement to Vista Radio.
"The RCMP is very concerned about recent public reports/complaints specifically alleging a lack of action with respect to a series of historical allegations out of the Prince George area.,"
"The RCMP has not been in a position to publically disclose the scope and complexity of work that has taken place to address these very concerning allegations. However, we have recently reviewed our investigation to determine what further actions could be taken and if the information being publicly reported aligns with previous investigative findings and reviews,".
In June of 2004, Judge David Ramsay was sentenced to seven years in prison for sexually assaulting Indigenous girls.
In a release sent by the Union of BC Indian Chiefs, nine Mounties and one lawyer who are connected to the file have yet to be charged.
Last week, BC Public Safety Minister Mike Farnworth stated the province will be launching a full independent and out-of-jurisdiction investigation.
"The RCMP has confirmed they will fully cooperate with the investigation, including providing all their records to the external agency – which will be announced in the coming weeks.
"Our government is absolutely committed to ending systemic violence against Indigenous women, girls, 2SLGBTQ+ people, and vulnerable persons, particularly in the cases which involve the police and there still remains work to be done."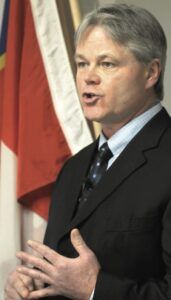 Retired Staff Sergeant Garry Kerr stated he was contacted by retired Constable Lisa Mackenzie who discovered disturbing videotapes in the basement of her home – a space she shared with her ex, who was also an RCMP officer.
The tapes reportedly showed police officers in Prince George harassing Indigenous girls.
Kerr who made the first phone call to superiors in 2011 and has been very critical of the force's handling of the initial investigation.
"They clearly took many, many steps to silence me if you will. The lies, the neverending misinformation from senior RCMP officers in BC to myself ultimately led to myself making a complaint to the Public Complaints Commission in late 2015."
Kerr received the report from the Public Complaints Commission six years later in March of 2021 after making several inquiries.
"It is my understanding that the Public Complaints Commission finished their report in 2018 and it was in 2018 that the report was forwarded to then-RCMP Commissioner Brenda Lucki who basically sat on the report for three years."
Furthermore, Kerr believes this latest investigation by the province may further lead to more debate about a municipal police service in the northern capital, similar to what is happening in Surrey.
"Every person in this country should be outraged and appalled by the conduct of the RCMP. The RCMP or misconduct in my mind was done by some of the most senior police officers in the RCMP. People, First Nations or otherwise, should be outraged by the conduct of these officers."
"Obviously, this is more than a black eye for the force, it's a palm. I can see why municipalities, looking at Surrey as an example, to me, this is another reason why municipalities would explore the possibility of having their own police force. The RCMP even under the leadership of Commissioner (Brenda) Lucki, who just stepped down or was fired – her track record is atrocious."
Last April, an all-party committee recommended the government move to replace the RCMP with a provincial police force.
The government's latest contract with the RCMP expires in 2032.
PG RCMP Superintendent Shaun Wright stated in a May 2022 interview that a municipal police force in the city would cost an extra three million dollars per year.