Seven students from Southridge Elementary School will be in Vancouver taking part in a Lego-based robotics, engineering, and innovation competition this weekend, known as the First Lego League.
There are a few components to the competition – firstly, the Lego.
As seen above, there are structures around a table and a robot that looks like a cube on wheels with a simple lit-up display on top.
The students have programmed the robot to perform tasks – entirely on its own – at each of the different stations.
This includes a variety of tasks, like activating a windmill, releasing a car from a ramp, collecting and transporting some other Lego bricks to set locations on the table, and a handful more.
In between some sets of tasks, the robot will return to one of the corners of the table where the students will change its "jigs" – the parts of the robot that interact with the structures on the table – in the style of a Formula One pit crew.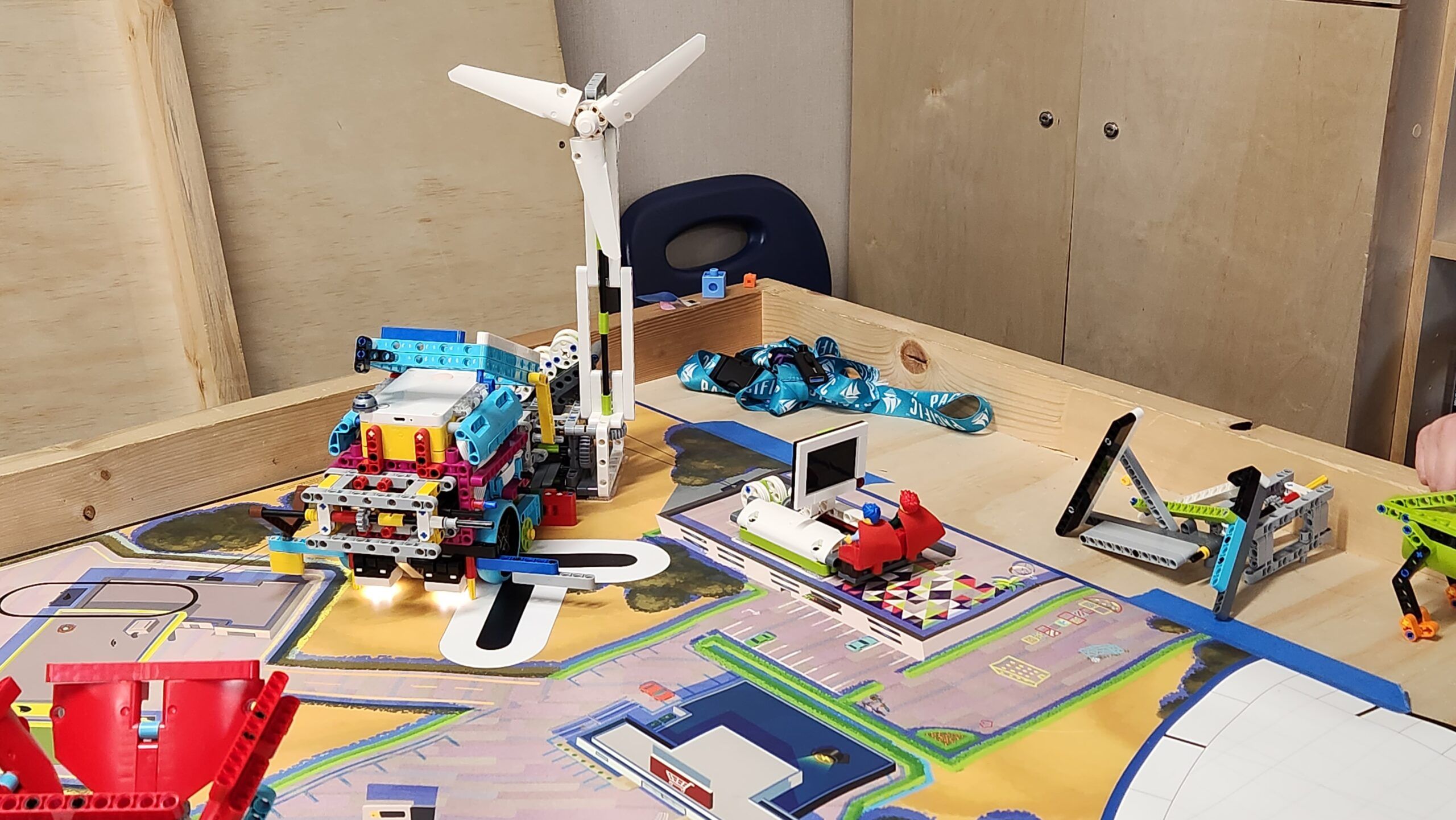 "There are different tasks that you have to do," Omar Mansour, one of the students, explained to My PG Now. "There is one task where you push a button and a TV goes up, you get points from that."
"This robot was built last year, and it took about a month to build," Kade Sokolic, another student, explained.
While demonstrating a table run, it was very clear the robot is doing much more than running a set route. It is capable of righting itself if it gets knocked off track, understanding where it is, and what and when it needs to do while it is there.
Students will work to have the robot complete all of the tasks on the table within two and a half minutes, while also demonstrating that all of the team members are involved and working well together.
"They are judging you on three separate things," Spencer Gibson said. "Your team's teamwork, your team's table running, and the third way is on our innovation project."
The innovation project is a completely separate part of the competition, where teams have to present a topic to judges that they have researched and prepared.
Tim Clough, a grade 6 and 7 teacher at Southridge and the team's organizer, told My PG Now that last time the team competed in 2019 the theme was "inclusivity and community access."
His students pitched an online service that could connect homeless people around the province with local resources and programs.
"The theme this year is power usage, generation, and transportation," Clough said. "The purpose of that is to go beyond the Lego piece and the coding, and to look at the community and see how they can make a difference."
He said his students started looking at the unique challenges of power efficiency in northern BC, he suggested looking into passive home design – from there they were off and running.
"You have your standard house which uses not the best insulation, so there is a lot of thermal bridging where heat escapes the house," Sokolic said. "It uses a lot more power and energy and it is not as good for the environment."
The team quickly realized designing houses with this idea in mind is becoming the new standard, but that does not help the hundreds of thousands of people in Northern BC who are not living in a brand new house.
They quickly pivoted their idea to explore retrofitting pre-exiting homes to be more power-efficient instead of building new ones from the ground up.
Ellie Chan said they "are trying to make it affordable, and work with cold and heat in the winter and the summer."
"Every morning we come into school early to work on it," Sam Gibson said, talking about the team but also himself and his brother Spencer. "We spend time after school working on it, and some of our weekends we come and work on it for two or three hours just so we can have something to present in Vancouver."
"That is more work than the robot piece," Clough said. "The research, they contacted Winton Global, Northern Dynamic Designs, and other contractors in the community to learn about the building process."
"They presented it to our shareholders and got some feedback on it, and decided… what do we do about the millions of existing homes? How do we upgrade homes? How do you incentivize people to do it?" Clough said, saying the kids started researching Clean BC grants and the best ways to retrofit.
Again, these kids are sixth and seventh graders.
"That is the part that takes way more work and critical thinking than the Lego."
Clough made it clear that he is functionally a chaperone and someone to lightly steer the group, but all of the work itself, from coding to research, was all done by the team of students.
"I am there as their mentor, not their teacher," he said. "I need to know as little about their project as possible… if they get stuck on something I can help them work through it and figure out their next step, but I am not going to blast out a sample piece of code for them."
The First Lego League is an international competition with regional meets across the globe.
According to the league website, nearly 680,000 people compete globally.
Southridge is Prince George's only school that participates in the league, and one of only a handful of participants from Northern BC.
The competition is on Saturday morning, and all of the kids shared feelings of excitement and nervousness.
Some of the seventh graders involved have been working towards, and waiting for this event for nearly two years after they were unable to attend in 2022 due to pandemic restrictions.
Both batches of students interviewed also said going to the trampoline park in Vancouver is high on their list of activities for the weekend.