Picket lines have popped up across Canada as the Public Service Alliance of Canada (PSAC) is now on strike.
Around 70 picketers were calling for a fair contract at the corner of Victoria Street and Third Avenue, the Canada Revenue Agency's Prince George location.
According to Jamey Mills, Regional Executive Vice President for PSAC in BC, there are many federal employees that fall under this strike mandate.
"Folks working at the Canada Revenue Agency, folks working at the unemployment insurance office, the passport office, immigration, folks working at military bases, folks working at Transport Canada, Department of Fisheries and Oceans, Environment Canada, pretty much the majority of the federal public service, except for folks working at Parks Canada, Food Inspection Agency and border offices," Mills said.
Mills added there are approximately 300 federal employees in Prince George that fall under the strike mandate, and roughly 1,000 in Northern BC.
The union represents approximately 155,000 workers across Canada.
He said wages and a work-from-home policy are two of the contentious issues.
"For the longest time, the employer said that 'working from home just isn't possible,' well during the pandemic, we've proven that's absolutely wrong," Mills explained.
"Our members have been more than productive, absenteeism has gone way down, but unfortunately a lot of those things that were drawn up, the employer unilaterally pulled that away from us without consultation in December."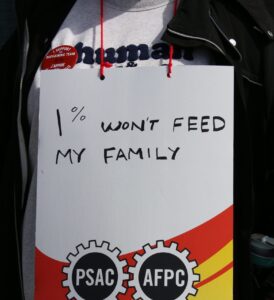 In terms of wages, Mills said they're asking for 13.5 per cent.
"We need to remember their average salary is somewhere between $40,000 and $65,000,"
"The wage increase we're looking for, it's really not asking for too much, it's asking for enough."
Other than wages, Mills says they're also asking for less work to be contracted out, as well as members asked to work in two languages, especially Indigenous languages, receive a multilingual bonus.