Welcome to Hartley's Cat Scan!
This is a weekly podcast featuring the 'who's who' of the Prince George Cougars.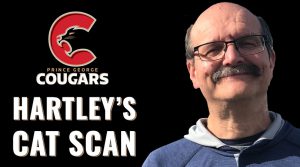 Hartley's guest this week is Cougars head coach and general manager Mark Lamb.
During the episode, he discussed a number of topics including:
Recap of the regular season and playoffs
Struggles against Seattle
20-year-old situation heading into next season; Tyler Brennan's injury during playoffs
Riley Heidt being selected to IIHF U-18 Men's Championship
Handicapping the Kamloops/Seattle Western Conference Final
You can also find this podcast on iTunes, Spotify, Google, Stitcher, and TuneIn.
LISTEN: