For 40 years as a magazine writer, I've explored the province in pursuit of its unusual adventures, scientific mysteries and natural wonders. From Atlin to Yahk (but not Zeballos), there are few B.C. places I haven't been. Many of the most spectacular and magical places are well-known and fairly reachable: Lake O'Hara; the Naramata Bench wine district; Haida Gwaii; the wildflower meadows of the South Chilcotin; Wickinninish Beach; Mt. Robson's Berg Lake, to name a few. 
Here, however, are seven astonishing sites in B.C. that few have seen. They are, in several cases, very remote and require a horse-packing trip, a floatplane or a helicopter flight to reach easily. This means serious money. Others require a good map (or GPS device), some hiking and a sense of adventure. All fall into the OMG category of genuinely amazing.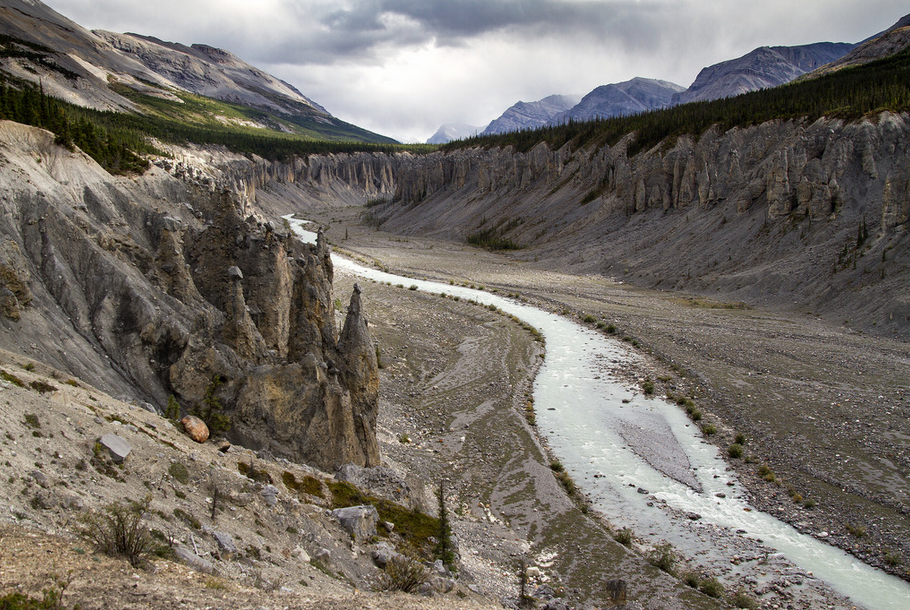 Wokkpash Canyon
From the obscure mining road trailhead to the surreal landscape of the Wokkpash Canyon hoodoos is 18 kilometres of serious backpacking, or a half-day's travel with pack horses. Located south of Highway 97's Toad River in the Northern Rockies, this site contains the largest collection of erosional columns in Canada. Thousands of boulders, some the size of armchairs and some the size of VW Beetles, balance precariously along both side of the glacial creek for five kilometres in a natural display of inverted exclamation marks. They seem impossible: tapering erosional columns supporting suspended rocks, raised five or 50 metres in the air. From horseback on the cliffside trail, I fight the juvenile temptation to hurl rocks at a few in hopes of creating a Big Bang.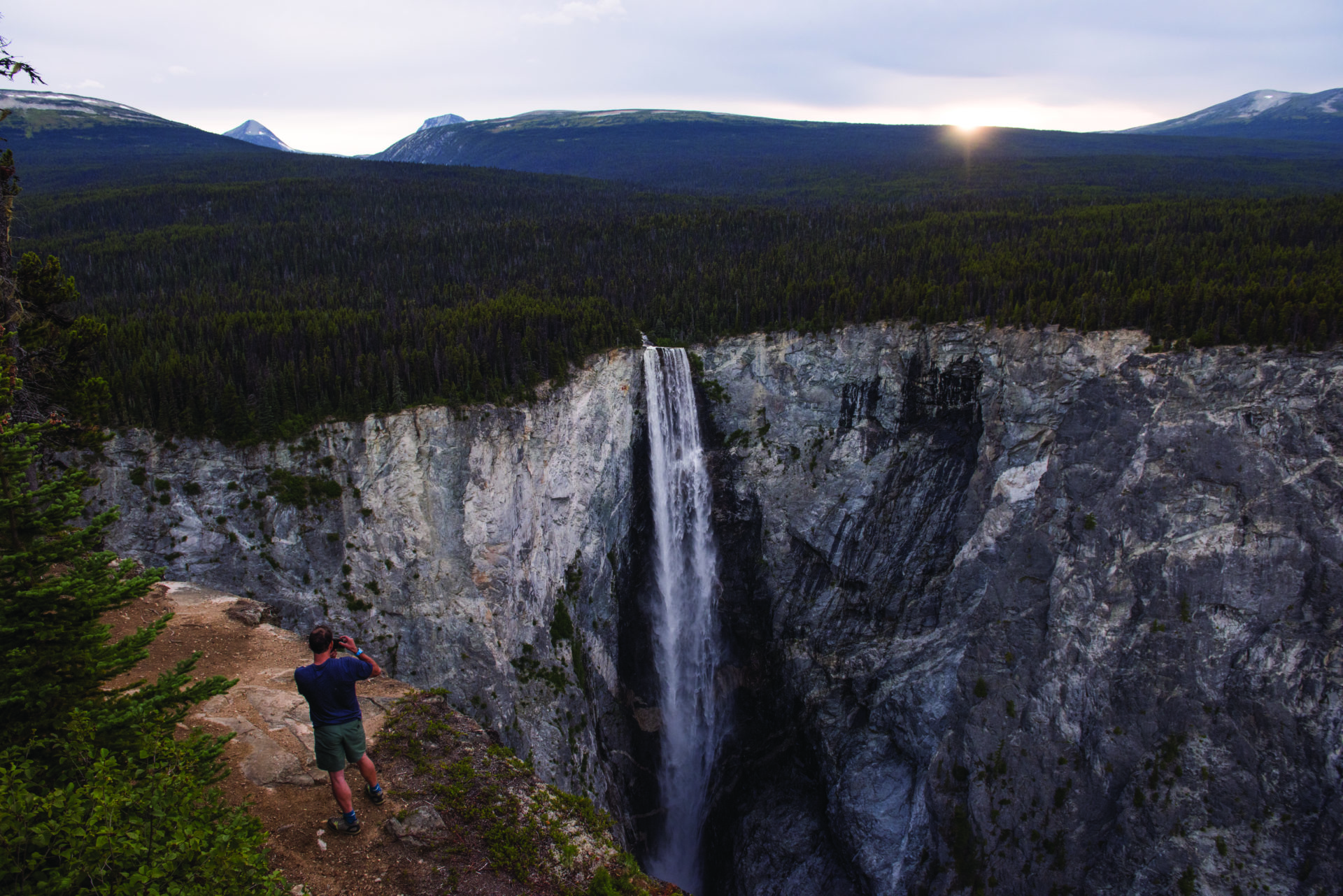 Hunlen Falls
The easiest way to reach Hunlen Falls is via a floatplane flight from Nimpo Lake to Turner Lake, located high in B.C.'s Tweedsmuir Provincial Park east of Bella Coola. As I walk through spruce forest toward the falls, I can hear—and feel—a low guttural rumbling from the chasm to my left. And note signs that read: EXTREME DANGER! Which I ignore. Preferring a good vantage point to caution, I shuffle tentatively toward the cliff-edge and look down into a half-kilometre of air. The 401-metre-high cataract (eight times the height of Niagara) issues silver crescents of airborne water, crossed by a rainbow, before crashing into a rocky echo-chamber far below.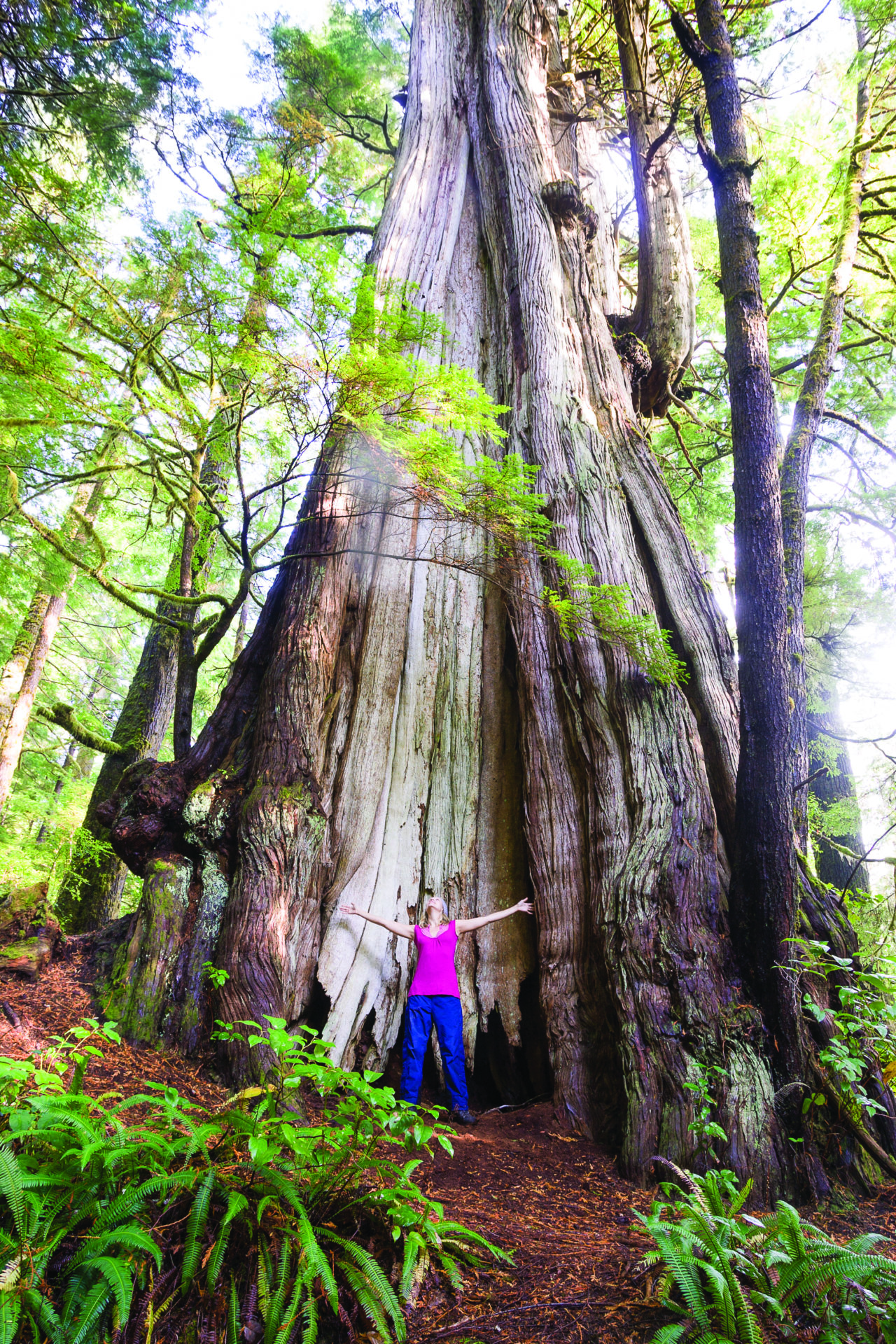 Cheewaht Giant
There are bigger trees in the world, but the Cheewaht Giant is the Big Doodah, the Numero Uno, the Colossus of trees in Canada. Located off a series of unpaved logging roads southeast of Port Alberni, the humungous redcedar was found in 1988 by Maywell Wickheim who'd spent his life searching for the country's biggest tree. When he takes me along a rough, overgrown trail amid huge cedars toward the site, it isn't until I see one tree almost twice the size of the others that I have a stop-in-my-tracks, OMG moment. Wickheim measures its circumference: 21.5 metres at the base. And calculates its trunk's diameter: six metres at shoulder-level. I do a rough, arm-span measurement: 14 spans. Using a hollow auger on a nearby fallen cedar, and extrapolating from that core's tree-ring count to the Cheewaht Giant's diameter, he calculates it's 3,500 years old. "A tree for tree-huggers," he says.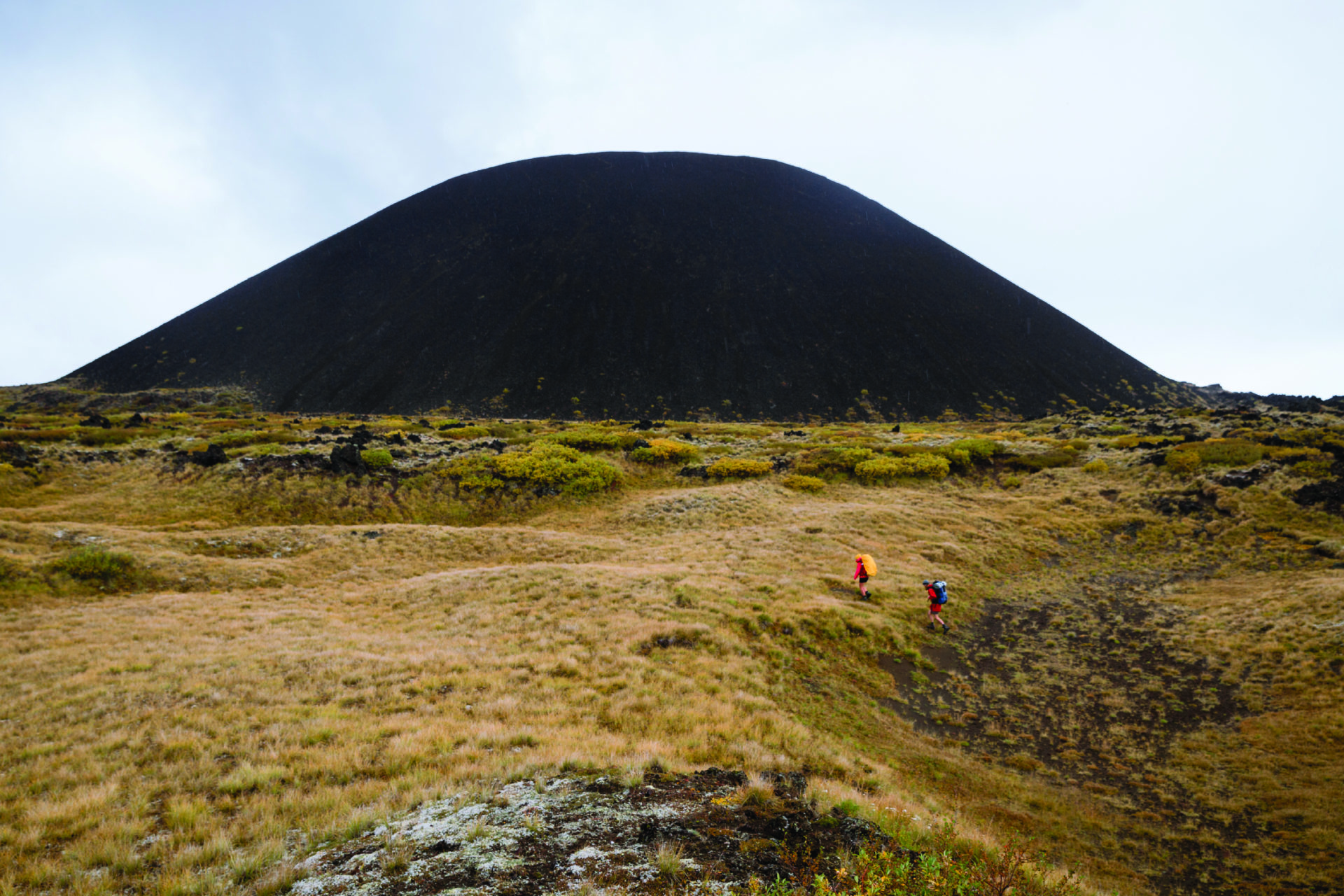 Eve Cone
The helicopter comes in low and fast, skimming vast, hardened lava flows that descend from volcanic, 2,787-metre Mount Edziza and surround the 30 or so smaller cones that punctuate this northern B.C. plateau. The most perfect of these is Eve Cone, a 150-metre-high cinder volcano formed 1,300 years ago during the province's last series of significant eruptions. Hiking or horse-packing into these high-altitude lava fields is doable, but difficult—with trails poorly marked and water scarce. In a circling helicopter, we skim the little cone's rim as if on an aerial carousel—banking, banking in tight spirals—until giddy laughter fills our earphones. Glaciers flow down from Mount Edziza' summit and nearby ridges look on fire as the volcanic rocks oxidize: the yellows of sulphur; the oranges and reds of iron; the creamy whites of ash creating abstract flames that mimic the original molten lava flows here.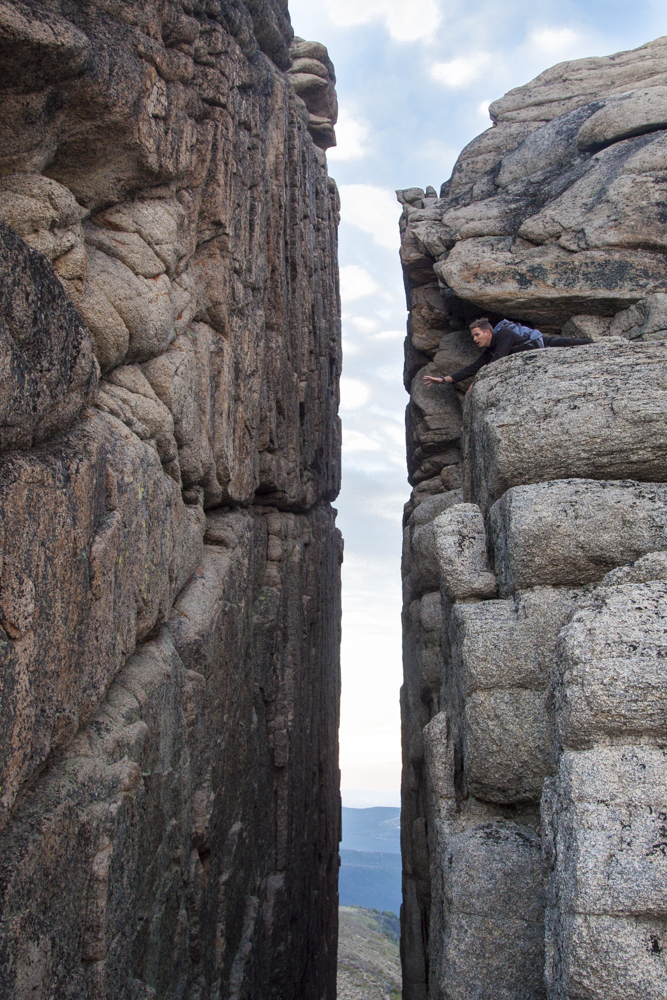 Giant Cleft
The Giant Cleft in the cliffs that encircle the Cathedral Lakes appears near the end of a comfortable, day-long, counter-clockwise circuit along the Rim Trail Loop. Having gradually ascended 600 metres through fields of blooming alpine flowers to ridgeline, the views immediately south encompass families of curious mountain goats, and farther away, the 2,600-metre-high summits of the U.S. Cascade Range. The views north encompass the six aquamarine lakes for which Cathedral Lake Provincial Park, located southwest of Keremeos, is named. The extraordinary, 200-metre-deep cleft was caused, geologists explain, by the erosion of a metamorphic intrusion into harder bedrock. Hikers, myself included, cannot resist the temptation to pose at the precipice-edge, bravado trumping the hazards of gravity.
Farwell Dune
The best approach to the Farwell Dune is from the south, via a series of gravel roads that leave Highway 97 at Chasm and head northwest through the Chilcotin's Gang Ranch grasslands to Riske Creek. The dune appears just before the road plunges in switchbacks toward the canyon of the churning, grey-green Chilcotin River. Up close, it's like something out of a Saharan mirage: huge, bone-coloured, burnished by a constant wind. The 300-metre-long and 50-metre-high, scimitar-shaped dune has been created by the eddying of prevailing westerlies in an ox-bow of the river far below. I kick into the sand's untrammelled ripples as I climb upward and tightrope walk a hard-packed ridge-line to the dune's crest. With the hissing of sand underfoot, the whispering wind and views to undulating, celadon-coloured grasslands below, I make a silent, unrequited appeal for wings.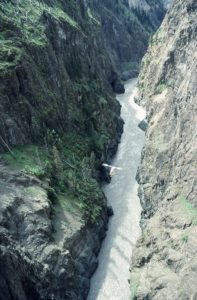 Stikine Canyon
My purpose on this day was to ride shotgun with a skilled pilot as he attempts—for a film crew trailing in a second helicopter higher above us—to do something so dangerous that, as far as we know, no one has attempted it before. Our challenge is to take a helicopter through the twists and turns of the 300-metre-deep, near-vertical-walled Stikine Canyon of northwest B.C. (And live.) At times, we're so close to the water that spray from the Stikine River's tumultuous whitewater pelts the windscreen. At other times, grey cliffs appear directly ahead and I hear the pilot shout, "Let's rock 'n' roll!" as he slaloms the helicopter onto its side and high-speed G-forces drive me into my seat. No roads approach the remote chasm near Telegraph Creek. Only the most skilled of extreme kayakers attempt a downriver run of the infamous 96-kilometre-long gorge. And only two people, to my knowledge, have run the entire canyon heading upriver, airborne.