A pair of special dogs are helping improve the lives of a pair of Prince George boys.
Izyk, 8, and Jasper, 11, Papineau have been paired with Leroy and Kylo, Autism Assistance Dog Guides.
"When we brought home Leroy, Izyk was five-years-old and he had never slept through the night yet," said Meggan Maurer, Izyk and Jasper's Mother.
"When we brought him home, Izyk slept through the night for the very first time the first day we brought Leroy home, so that in itself is beyond amazing."
Maurer said things kept getting better for her family after bringing Leroy home.
"[Leroy] would keep Izyk safe when we were out in the public because we could tether Izyk to Leroy,"
"Whenever Izyk would try to bolt, Leroy would lay down, and Izyk couldn't go anywhere so I didn't have to constantly run around after him out in public."
For Jasper, Kylo provided a different kind of support.
"It was more of an emotional support, just knowing that you always have unconditional love and acceptance no matter where you go is an amazing feeling for someone with autism," Maurer said.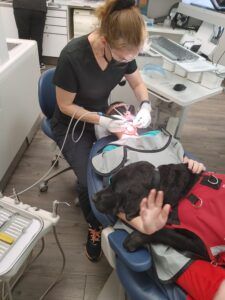 "Unfortunately, the public can be kind of judgmental when he's not feeling comfortable in a situation if he happens to have a meltdown and be crying in public, people tend to make rude, unacceptable and really unneeded comments about his behavior, but with a dog, when we're out in public, the dogs wear a harness that says on them that they're an autism assistance dog guide, and people seem to be more understanding of his behaviors in public, and they'll give us a little bit more space or they'll actually try to help us."
Maurer said she did a lot of research on dog guides, and found the Lions Foundation of Canada Dog Guides.
"I put in an application and then we waited for about six months and somebody came out and met us and did an interview, and spent some time with our family and figured out whether or not a dog would help us," she explained.
"Then they go back and talk to their trainers and figure out if we're accepted into the program."
If the family is accepted into the program, the dog trainers will train the dog for the child.
Then, the parents will fly out to Oakville, Ontario for ten days of training, before flying the parents and dog back home to bond with the child for two weeks.
After that, the trainer will come out to help make sure the family is using the dog guide to its best potential.
According to Maria Galindo, Communications Manager for Lions Foundation of Canada Dog Guides, it takes approximately $35,000 to train each dog and to match them with the individual they're assisting.
"We breed the dogs from the very beginning, so there's a lot of components that go into breeding," Galindo explained.
"We get the clients to come from anywhere in Canada to Oakville to train, so that travel, that accommodation expense is included in that cost. The health of the dogs, the dogs have to be super healthy in order to be involved in this type of work, so vaccinations, we provide the best food."
Galindo added they also provide support with follow ups throughout the dog guide's career.
"That's approximately ten years that you have assistance from a staff member."
The organization is holding an online "Walk for Dogs Guides" fundraiser with the goal of raising $1.4 million.
"It's a high goal but we're hoping we can get there," Galindo said.
"All of that money will go towards providing dogs to Canadians with a disability."
While there isn't an event happening in Prince George, Galindo noted there are 15 walks happening in BC, and over 150 across Canada.