An order of Seizure and Sale has been posted on the front door of each of the Salted Cracker's four locations in Prince George, all of which are now closed.
While the specifics leading up to the closure of the local business are unknown, My PG Now has acquired an email from Michael Pockett, the owner of the Salted Cracker, to staff, sent on February 24:
Good Morning,
Happy Friday! (kinda)
With all of the days that locations have been closed, due to the holidays, staff sick days, and shortage of staff, along with the way lower than expected store sales, I face a serious dilemma.
Payroll is today, as you all know. The regular book-keeper bailed on us, so we had to take an alternative route to get it done. Our bank accounts are super low, cash flow is bad. We won't have enough to cover everyone, until weekend deposits are done on Monday.
What I am asking is a HUUUUGGGE ask, but I am looking for volunteers that would be okay to have their pay for this period deposited on Monday late morning.
This is completely voluntary, but I just don't have the funds to cover everyone. I am really sad that I have to ask…
Please text me if you are able to volunteer…
I am really embarrassed to have to ask…
Michael
Almost three months later to the date, these notices from the North Central Bailiffs were posted.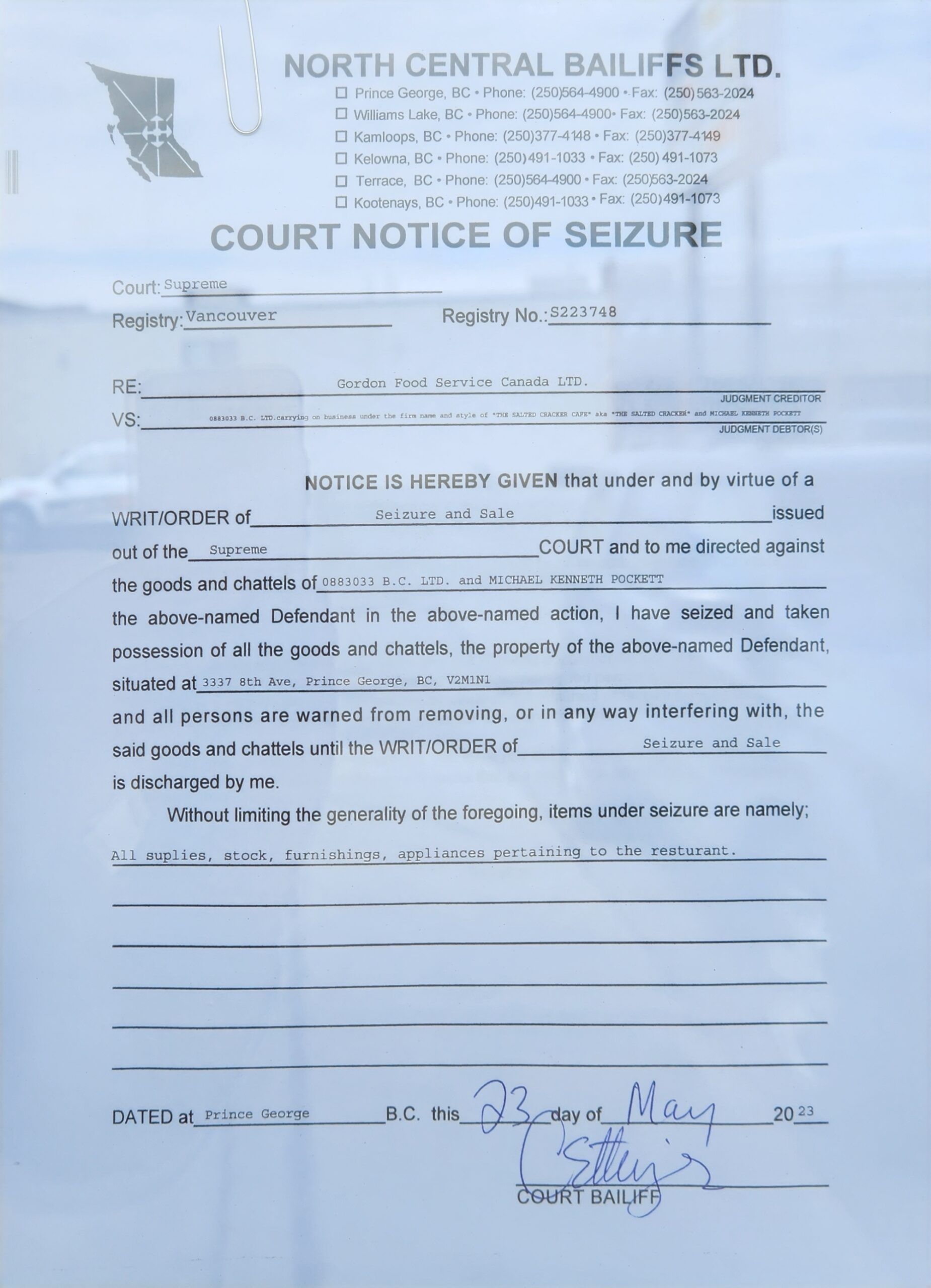 According to the North Central Bailiff's website, "A Writ of Seizure and Sale instructs the Court Bailiff to seize sufficient of the debtor's unencumbered personal property, which will be sold to satisfy the amount of the Judgment. The Registrar of the court where the Judgment or Order was made and directed issues a Writ of Seizure and Sale to the Sheriff or Court Bailiff of the district where the debtor resides or is believed to have assets."
You can find out more information here.
According to Pockett's email to his staff, the stream of customers the local business had become accustomed to had become a trickle, hard times that have been hitting restaurants all across Canada.
Restaurants Canada says a whopping 51% of restaurants in the nation are losing money right now, and the number of them facing bankruptcy is up 116% from 2022 and rising.
The Salted Cracker is the third prominent local eatery Prince George has lost in 2023 – Cimo Mediterranean Grill announced they would be temporarily closing on January 31 (the building was also listed for rent).
The Firm Lounge and Grill posted the following on April 26:
It is with heavy hearts that this post is made.
The building we are in has been sold and we have been given 48 hours to vacate the building. We are doing our best to fight for more time, but as it stands we will be closed after our Friday night dinner service.
To make matters worse, restaurant owners are also facing down a December 31st repayment date for the funding they received from the Canada Emergency Business Account during the pandemic.
Restaurants Canada is also calling on Ottawa to consider a 36-month payback extension proposal ahead of the December 31st repayment deadline.
BC's minimum wage will also increase by over a dollar on June 1st to $16.75 an hour.
–With files from Brendan Pawliw and the Vista Radio national news wire