The finalization of SD57's proposed $200 million budget has been pushed to June's meeting.
This is, in large part, due to a government staff funding grant that came in $300,000 short of what was expected by the district – $800,000 instead of $1.1 million.
The board said this unexpected dip in grant money is also being felt in districts across the province.
This is on top of the shortfall of over $2 million the district was already facing.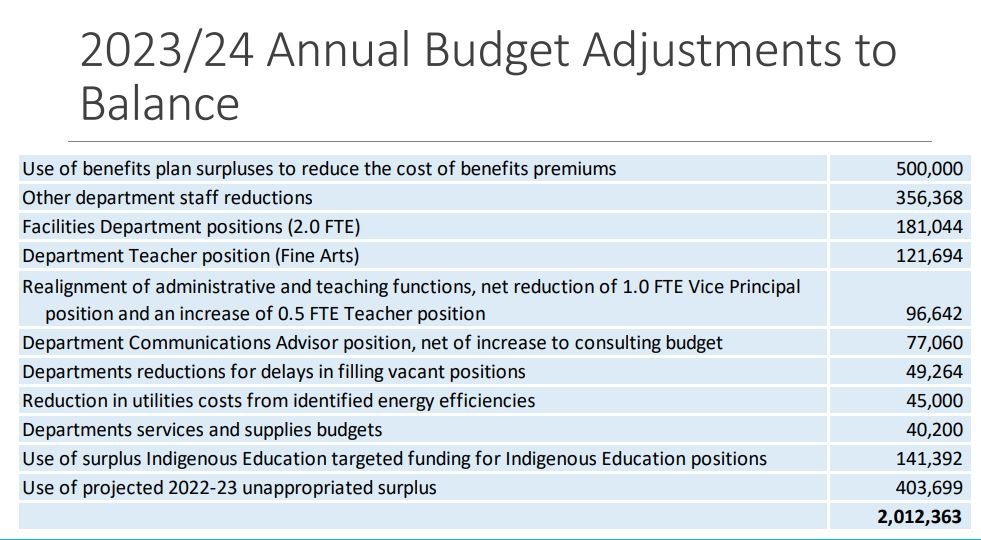 "We are not going to take supports away from the classroom," board chair Rachael Weber told media after the meeting. "We are going to use the month of June to analyze the budget… and try to bring it as close as we can without having to touch surplus."
She said at the moment, the board is looking at "everything" as an option, and that the board is very appreciative of local groups and individuals who have already passed along suggestions.
Where did the money go? Weber said every school district gets the same amount of money every year while inflation goes up.
"Then we are challenged every year with how do we fuel our busses with the prices of gas going up as much as they are?" she said, as an example. "We just need to put the pressure on the Ministry of Education and ask for more money."
June's meeting is the final one before the board goes on their summer hiatus, the budget legally has to be approved at that meeting on the 27th.
Two new trustees will be elected in the by-election on June 17th. It looks as though they will be starting off running in their first 10 days.
As for the $199,477,121 budget, the breakdown presented at tonight's (Tuesday) board meeting is as follows:
Operating Fund: $170,150,993 (85%)
Special Purpose Fund: $20,322,809 (10%)
Capital Fund ($9,003,319)
98.5% of the district's total funding comes from the Ministry of Education and Childcare.
For a more in-depth look at the budget, click here.