For the first time since 2019, downtown Prince George will be covered in rainbows and flags as dozens of floats and hundreds of supporters pack the street for the annual Pride Parade.
The parade will kick off at 10:00 on Saturday (June 3) morning near the Marriot, heading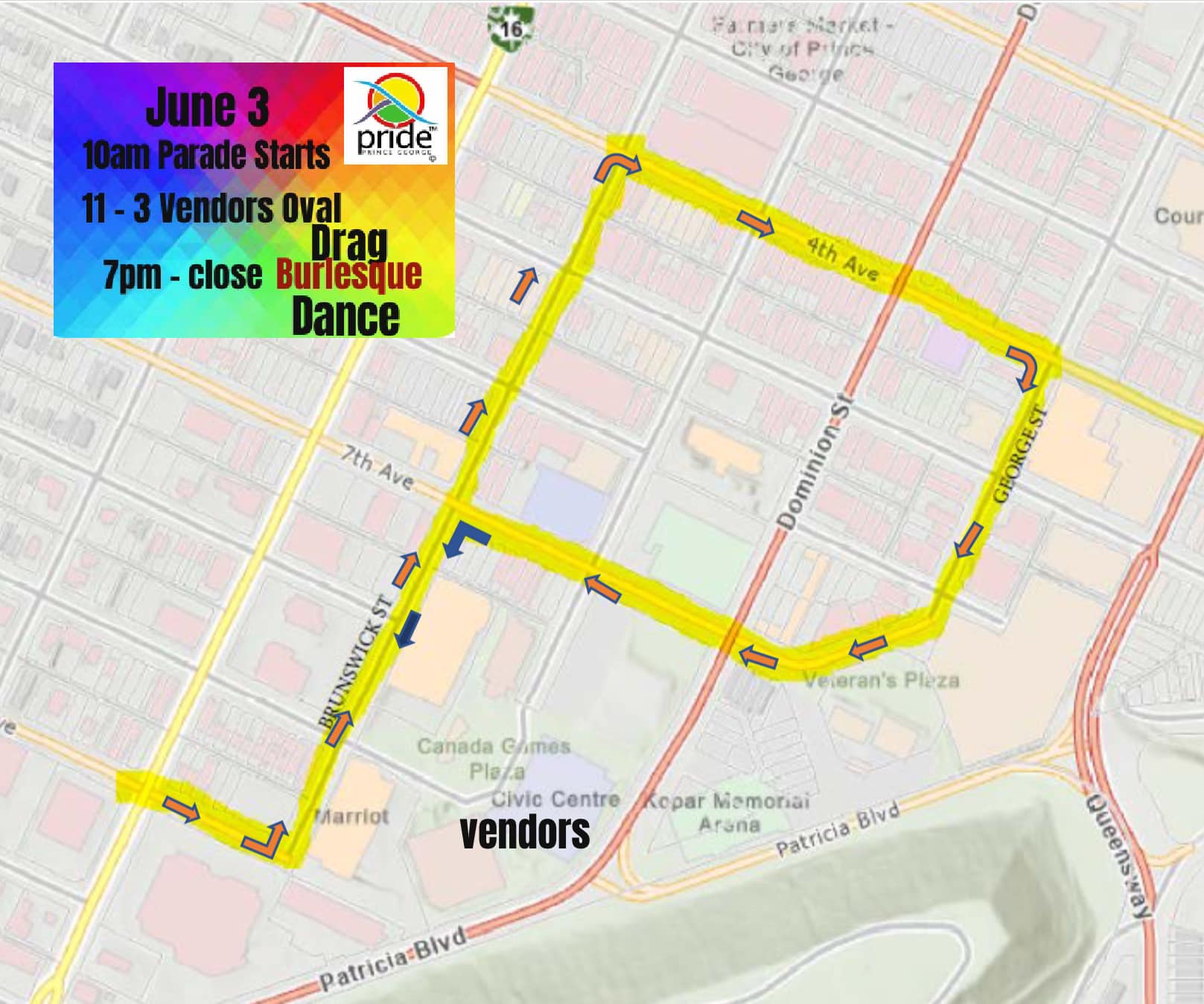 up Brunswick Street, down 4th Avenue to George Street, and back – creating a giant "P" for some extra flair.
Lori Kroeker, the parade coordinator, said the event usually has 50-75 groups and floats take part in the parade, with onlookers lining the street and joining in.
Since this is the first year back since the pandemic forced a three year break, she expects the event to be a little bit smaller.
"We'll hope for bigger next year, bigger and better always," she said. "For people coming out to watch, I couldn't even guess. We have had it where the streets are so full you couldn't even see the businesses behind them. We are hoping for that this year, but we will take what we can get."
The annual Pride Parade is "the one time of the year that we are like 'hello, we are here,'" Kroeker said, adding "If you need to ask 'why have the pride parade,' we are going to continue to have it."
During the week leading up to the parade there were smaller pride events for families and all ages at the Roller Dome and Strike Zone, as well as a flag raising outside of City Hall this morning (Thursday).
There will also be a pride pre-party held at Club 1177 Friday night.
At 11:00, after the parade ends, there will be an all ages vendor event set up for the afternoon.
After the parade there is a ticketed, 19+ drag and burlesque night being held at the Civic Centre.
"In the past and this year again, we have had people very upset that they can't bring young people under 19 to that event," Kroeker said, which was a primary reason behind some of these other pride themed events.
Looking at the backlash events like drag storytimes and other pride initiatives have received across Western Canada, and especially in the United States, in recent months, Kroeker said it is important to keep Pride events "in the public eye, for the welfare of our kids especially."
"For all the people that are fighting against drag queens – how many people with children have sat down and watched Mrs Doubtfire? Hello, that's called drag," she said. "It is as bad as book burning. You can't pick and choose. Either you accept it all or you accept none, and some states south of the border are choosing to accept none."
Kroeker also mentioned anyone wanting to volunteer with the parade, or other pride events through June's pride month, can contact Lisa at [email protected].