It's not often a visiting player gets a warm welcome for the home crowd but in the case of Cameron Schmidt, it was a homecoming to remember.
The 16-year-old from Prince George returned to the CN Centre with the Vancouver Giants earlier this week – his first two WHL games since capturing a Gold Medal with Canada White at the recently-completed World Under 17 Hockey Challenge in Prince Edward Island.
Schmidt scored the game-winner in overtime during the Gold Medal contest against the rival United States.
In an interview with MyPGNow.com, Schmidt said having the PG Cougars play a tribute video of his accomplishment along with a strong ovation from the fans was a classy move.
"It obviously was a special moment. With my hometown team doing that for me and with my friends and family here and to share that moment with them was awesome."
"It was a great experience playing for Team Canada at the U17's. Winning a gold medal was an unreal opportunity and something I am grateful for."
How the gold was won!🥇

Voici comment la médaille d'or a été gagnée!🥇#WorldU17 | #MondialM17 pic.twitter.com/zEv1x93snG

— Hockey Canada (@HockeyCanada) November 12, 2023
Schmidt grew up playing the game through Prince George Minor Hockey and in 2019-20, suited up for the Cariboo Cougars U15 program as an affiliate player notching six goals and three assists in six games.
He was slated to return to the Cariboo program the following year but the COVID-19 pandemic threw a wrench into those plans and elected to go the Canadian Sports School Hockey League route joining Rink Academy's U15 prep squad in Kelowna.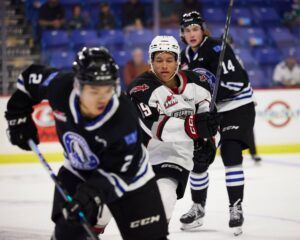 Schmidt was coached by Jarome Iginla – a 20-year NHL veteran who notched 1,300 career points in 1,554 regular season games – the majority of which, were with the Calgary Flames.
"Being able to learn under someone like that is an experience I couldn't pass up and I had fun doing it."
Last season, Schmidt lit the lamp 38 times in 47 games played with Rink. In his first career game, as a 15-year-old call-up by the Giants, he tallied his first goal during a road game against the Tri-City Americans on January 6th – a 3-2 overtime victory.
Vancouver is currently sitting eight in the Western Conference with a record of 8-11-1-0, one point ahead of the Spokane Chiefs and Kelowna Rockets for the final playoff spot.
With the Giants building around its 2005, 2006, and 2007-born players, Schmidt believes the future is bright despite some early growing pains.
Schmidt has nine points in 12 games this season with Vancouver noting the adjustment to major junior has been met with a few bumps in the road.
"The jump up from U18 to the WHL is a bit of a different size and speed but I think I have adjusted pretty well so far."
Your 2023 World Under-17 Hockey Challenge champions! 🥇🇨🇦⚪️

Vos champions du Défi mondial de hockey des moins de 17 ans 2023! 🥇🇨🇦⚪️#WorldU17 | #MondialM17 pic.twitter.com/8ac2Yg4I5k

— Hockey Canada (@HockeyCanada) November 12, 2023
While most 16-year-old kids might be a little nervous about moving to the Metro Vancouver area Schmidt is quite comfortable in his new surroundings.
"I played spring hockey down there so it is kind of my second home. I have family down there and it's been good so far and am enjoying it."
The Giants split the doubleheader where a 5-0 loss on Tuesday was followed up by a 6-1 win on Wednesday.
Both teams play again tomorrow (Friday) in Langley.