Balanced and dominant. That's how the UNBC Timberwolves men's basketball team took care of business on home court.
Six players reached double-digit point totals as the T-Wolves cruised to a resounding 97-66 victory over the MacEwan Griffins from the Northern Sports Centre on Friday.
Spencer Ledoux had a team-high 16 points in the victory while second-year guard Justin Sunga tallied 14 points and 10 assists.
UNBC jumped out to a 27-16 edge after the first quarter before extending it to 49-33 at halftime.
The Timberwolves went 33/61 on field goals (54.1%). Darin Hunter and Evgeny Baukin recorded 15 points each while American Josh Gillespie tallied a double-double with 14 points and 12 rebounds.
Three games into his Canada West career, @UNBCMBB first-year Patrick Freeman is looking more and more at home.

Hear from the Wellington, NZ product after the TWolves topped @MacEwanGriffins to move to 2-1 pic.twitter.com/s91xzDhOo0

— UNBC Timberwolves (@UNBCATHLETICS) November 18, 2023
All eleven players who were dressed for the Timberwolves (2-1) saw game action against MacEwan (0-5).
Milan Jaksic hooped 21 points in defeat for the Griffins.
Hear from @MacEwanGriffins forward Milan Jaksic after his 21 point, 9 rebound performance in a loss to @UNBCMBB pic.twitter.com/ivsp1j7wMQ

— UNBC Timberwolves (@UNBCATHLETICS) November 18, 2023
UNBC outscored MacEwan in the paint by a 56-36 margin and also notched 31 points off turnovers.
In women's action, Duchess Park grad Rebecca Landry heated up in the fourth quarter to lead the Timberwolves to a sloppy 69-57 victory over MacEwan.
Landry went 9-for-17 on field-goals, ending the contest with a game-high 22 points.
Hear from @UNBCWomensBball captain Rebecca Landry after her big day propelled the TWolves to a @CanadaWest win over @MacEwanGriffins pic.twitter.com/ukMl96HCU7

— UNBC Timberwolves (@UNBCATHLETICS) November 18, 2023
After a 14-1 run to begin the game, MacEwan stormed back to lead the Timberwolves 36-35 halftime thanks to a buzzer-beating halfcourt moonshot by Toki Tsuzuki.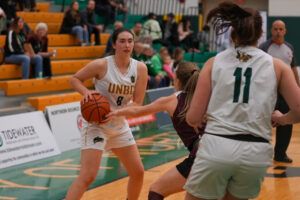 Neither team could gain any offensive traction for much of the third quarter where UNBC found themselves ahead 48-46, despite many missed shots and unforced errors.
Both teams combined for 53 turnovers. Bella Mesquita and Amrit Manak recorded 11 points each for the Timberwolves who moved to 1-2. MacEwan drops to 0-5.
Toni Gordon grinded out a nine-point effort in defeat for the Griffins.
Both UNBC varsity teams are back in action tonight (Saturday) against MacEwan. Tip-off is at 5pm and 7pm.
After her 8-point, 6-rebound performance, hear from @MacEwanGriffins guard Allie Spenrath about MacEwan's hard fought loss to UNBC pic.twitter.com/9a4SHmjlN0

— UNBC Timberwolves (@UNBCATHLETICS) November 18, 2023