Four years ago today, a sawdust explosion at Lakeland Mills in Prince George levelled the facility, killing Glen Roche, Alan Little and injuring 24 others.
An Inquest by the BC Coroner's Service ruled the deaths of Roche and Little accidental last year, and delivered the same ruling at a separate inquest into the Babine Forest Products explosion. Documents released to MY PG NOW through a Freedom of Information request show the Coroner's Service spent a little over $450,000 on the two inquests.
But even with the public inquest into the accident completed, the physical, mental, emotional and legal wounds from that night are far from healed, with multiple cases before the courts.
Bruce Germyn is one of several workers from Lakeland Mills and Babine Forest Products suing the Province and WorkSafe BC in a class action lawsuit over the pair of 2012 explosions. (previous story)
He says he still suffers from PTSD, chronic pain, hearing and vision loss as well as a "rollercoaster" of physiological trauma.
"I can speak for myself and probably various others, that we carry a lot of that night throughout every day of our lives. There is stuff that just doesn't go away; images, sounds, there is stuff that we carry that I'm quite sure quite a few of us will carry for their remainder of our lives."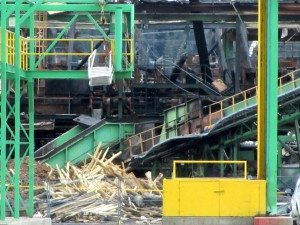 The lawsuit alledges negligence, saying WorkSafeBC "knew or ought to have known that in sufficient concentrations wood dust is combustible and poses a serious risk of explosion."
"There is an understanding amongst us that this is going to be a long journey." Germyn said "My timeline is from here until when I expire from this earth, because there needs to be a change. I can't work under the WorkSafe regime as it stands right now, because what happened to me was their failure."
Also before the courts, Lakeland Mills management is suing its insurance company to get it to cover $724,000 worth of WorkSafe fines related to the explosion. (previous story) Those fines are also being appealed by Lakeland, and are being reviewed by WorkSafeBC.
At the end of March, WorkSafeBC Director of Media Relations Scott McCloy said he doesn't expect the review on those fines to be complete "for several months"

"Looking back… it wasn't done well"
In an exclusive interview this week with MY PG NOW, Premier Christy Clark acknowledged that the ball was dropped. "I think looking back, we all said at the time, it wasn't done well; the communication between WorkSafeBC and the crown prosecutors office was not managed well. Now all we can do is try to learn from that."
"Anything that went wrong in that case, we hope will never be repeated because we want to make sure that when things go wrong and someone is responsible, that they are held responsible and it's not some bureaucratic miscommunication that gets in the way. People want to know the system works for them!"
Clark pointed to the large number of fines WorkSafeBC is handing out related to sawdust as proof the system is working.
Despite all the legal uncertainty, Bruce Germyn says he has moved past recognizing April 23rd as any type of anniversary.
"I know it's hard right, it will always stand out. But I don't focus on it as an anniversary of an event anymore. It's more of a turning point in my life, a change that I need to move forward and figure out a different path."
PREMIER CLARK ON LAKELAND RAW