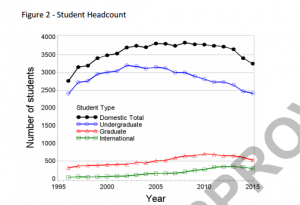 The UNBC Board of Governors meet tomorrow to hammer out next year's budget, and they are facing some challenges.
Domestic enrollment has been sliding in recent years at an alarming pace, full time enrollment is at levels not seen since 2001. Marginal increases from international students have not done much to soften the overall falling headcount.
Alongside increases in salaries for faculty as a result of last year's collective agreement, the university faces a $2.6 million shortfall this year.
The draft budget indicates that gap will be filled by one time cuts to spending in scholarships and awards as well as the capital equipment replacement fund.
Temporary decreases are also being proposed in utilities, non salary expenses and an increase in transfers from endowment funds.
But even if the Board balances the books successfully for next year, the pendulum is swinging in the wrong direction. Shortfalls are expected to balloon to $3.4 million in 2017/18 and $4.3 million in 2018/19.
The Board meeting runs from 10a-12p Friday in UNBC Senate Chambers