If you're lucky enough to live without mobility restrictions, you've probably never thought about the fact that enjoying our gorgeous local scenery can be nearly impossible for people who use mobility aids.
But thanks to a group of local organizations, led by Tabor Mountain Recreation Society and Spinal Cord Injury BC, trails near Dougherty Creek are now accessible to people who use mobility aids.
Pat Harris with Spinal Cord Injury BC says working with Tabor Mountain was a rewarding experience.
"It really takes the community to bring something like this together and the leadership of the Tabor Mountain Recreation Society and their board to take this on because you don't see that level of commitment for universal design and accessibility that we've seen here."
The area was conceived using with universal design, or access for all, in mind.
"Some of the elements that we looked at for accessibility, or universal design, is the grade of the slope," says Harris. "Is it too steep? We wanted to be able to provide a slope that's easy enough to wheel along. The type of trail surface that you want is something that can pack down and be very solid. That's easy for people using wheelchairs or seniors using walkers to walk on."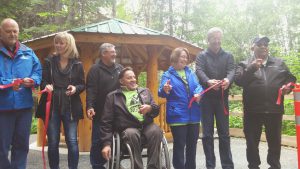 The trail features fine gravelled paths with minimal slope as well as accessible amenities such as picnic tables and gazebos.
Now that the ribbon has been officially cut, the trails are open to the public.
Today's event also served as a launch for the accessible campground project, designed by McElhanney Engineering, which will compliment the trails.