Gun advocates are up in arms over a recent RCMP ruling that has outlawed a popular type of rifle magazine.
Due to laws that limit the size of ammo clips in handguns, the standard Ruger 10/22 calibre rifle cartridge has been banned because it also fits in certain types of sidearms. Rim fire rifle cartridges normally do not have any maximum capacity laws regulations.
President of the National Firearms Association Sheldon Clare says the change will affect thousands of legal firearms owners across the country.
"I was talking to a colleague of mine yesterday and he said to me; 'You know, I know a lot of gun owners and I don't know any that don't own a Ruger 10/22.' I started thinking about it and I think that most people that have a .22 semi automatic would be looking at it and says my gosh it's probably one of those."
He says the has rifle been very common for people who like to go informal target shooting for years. It first went into production in 1964, with the 10 shot magazine proving popular because it can fit flush in the bottom of the stock.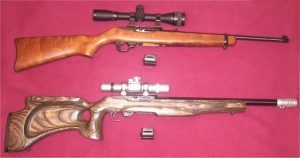 The RCMP ruling also appears to run against the RCMP's own regulations posted online which states "the maximum permitted capacity of a magazine is determined by the kind of firearm it is designed or manufactured for use in and not the kind of firearm it might actually be used in."
Clare says the Firearms Association has received an outpouring of concern on the issue and that they are weighing their options.
"There are certain bureaucrats in Ottawa who have it in their mandate and goals to work very hard on public disarmament… they're incrementally increasing these regulations to make it harder and harder for more and more people to use these items."
Prince George – Peace River MP Bob Zimmer says he has forwarded a letter to RCMP Commissioner Bob Paulson on the matter after being approach by several concerned constituents
"I have heard from many constituents who are concerned that this bureaucratic decision to change the classification of the Ruger 10/22 magazine, without a public bulletin, will now make many law-abiding firearms owners unknowingly considered criminals," said Zimmer in a statement